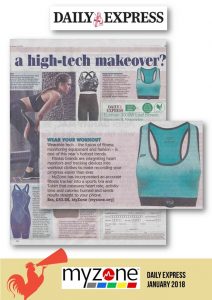 Summary: The Myzone Sports Bra is featured in the Daily Express as the best wearable tech to give your gym kit a high-tech makeover. The piece mentions that "the fusion of fitness monitoring equipment and fashion is one of the year's hottest trends."



The Daily Express is a daily national newspaper first published in 1900. It features the latest breaking news, showbiz, sport and lifestyle.



The Daily Express has an ABC circulation of 432,076 and an overall readership of nearly 1,500,000.