In an article about the data-driven approach to workouts and how it can help you become "fitter, faster and stronger", the MZ-3 belt is featured as one of the best fitness trackers to use. Included at the bottom of the page with an image of the vibrant red belt, it is clearly one of the most attractive trackers out there. Praised for giving "more accurate heart rate readings than wrist trackers", it lets you "view your effort readings and compare with friends" for extra motivation.
Business Traveller is the leading magazine for the frequent business traveller , with 14 editions worldwide — in the UK, US, Asia-Pacific, Middle East, China, France, Germany, Denmark, Hungary, Africa, Russia, Poland, Israel and India, as well as a number of websites. It is aimed at entertaining business travellers, saving them money and making their travelling life easier. Each edition is packed with editorial on the latest news about airlines, airports, hotels and car rental.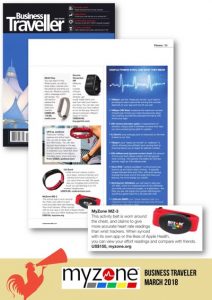 Business Traveller Asia Pacific has a circulation of 30,463 and an overall readership of 91,389 a month.