The Myzone MZ-3 is featured in this roundup of helpful tech that "will keep you right on track". Myzone's heart rate monitor is the only one to be featured in the roundup. Katie Strick highlights the "99.4 per cent accuracy" and "in-built memory" which means "you can make each session count even when you've not got a smartphone."
Evening Standard provides the capital with the latest in news, business news, entertainment and sport making it essential reading for those who live and work in the capital. The London Evening Standard has established editorially supported advertising platforms across the recruitment, travel, motors and property categories that provide advertisers with the opportunity to reach an upmarket and responsive audience.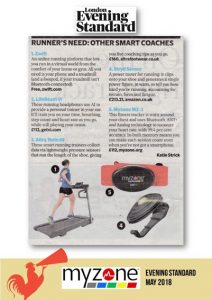 Evening Standard has a circulation of 888,484 and an overall readership of 2,698,452 a day.