The Myzone MZ-3 heart rate monitor belt features in the Stuff pages of Men's Fitness. This is a monthly page rounding up "MF's pick of the best new clothes, kit and products for the active man.". Myzone takes centre stage for its ability to "get accurate, real-time feedback on your performance so you know when to push on."
Men's Fitness was launched in 1999 and is a monthly men's lifestyle, health and fitness magazine. It covers health, fitness, nutrition and lifestyle. Men's Fitness aims to deliver an edgy, witty editorial stance on health and fitness that encapsulates the attitude of older, open-minded, health aware, affluent male consumers.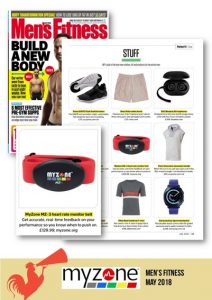 Men's Fitness has a circulation of 21,183 and an overall readership of 63,549 a month.