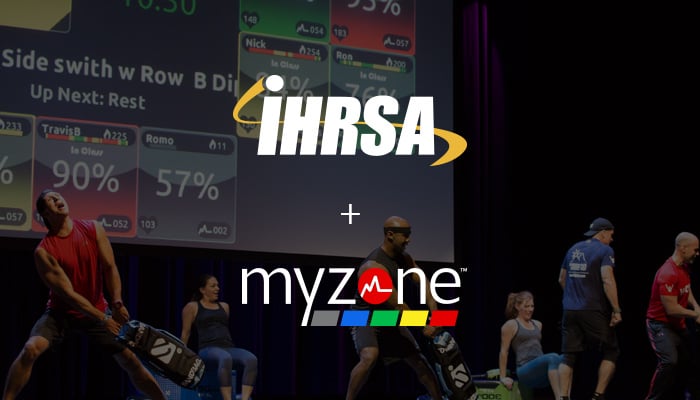 CHICAGO, IL - Myzone, a wearable technology solution that rewards effort, has been named the IHRSA 2018 Associate Member of the Year. This award recognizes an IHRSA Associate Member for their significant contributions to the advancement of the health club industry and their support for IHRSA, its members and mission. The Myzone company has been an IHRSA member since 2011, and its founders have been members since 1997.
Myzone was selected as this year's honoree due to its, "outstanding achievements, innovations and support of the health and fitness industry, its continued investment in leading-edge technology, and its unwavering support of IHRSA and its members," according to IHRSA.
This award only solidifies Myzone's growing reputation in the wearable technology space.
"In 2011, wearable technology was not a widely recognized term, but that has since changed. Myzone's technology is now available in 5,000 clubs and 64 countries, which demonstrates the impact it's having on the marketplace and the industry," said Dave Wright, CEO and creator of Myzone. "Myzone is honored to receive this award because it truly highlights the hard work that went into making our ideas a reality. We look forward to working with IHRSA for many years to come and hope that our product will encourage more people to pursue and achieve their fitness goals."
"Myzone has demonstrated its strong commitment to the industry and IHRSA, time and time again," said Joe Moore, IHRSA's president and CEO. "They are leaders in the technology sector and are truly helping club operators deliver measurable results for their members as well as healthier bottom-lines for their businesses."
Myzone will accept this award during IHRSA 2018, the 37th IHRSA Annual International Convention and Trade show in San Diego, CA, March 21 - 24.
Myzone is the industry's leading wearable technology solution that shows and rewards effort when working out. It displays real-time accurate heart rate, calories, and intensity with five simple and personalized color-coded zones. The telemetry can be displayed collectively in group settings such as boxing or cycling classes, or individually on your smartphone via the Myzone app. The app allows for engagement, motivation, and communities to flourish.
Respected as one of the most 'relevant' wearable technologies for the fitness industry, Myzone provides valuable data for operators, including personal training departments. With built-in challenges, personal goals, gamification and an online social community, users are motivated to sustain physical activity.
Myzone's primary markets are health & fitness clubs, corporate wellness sites and educational establishments. It's represented in over 5,000 facilities in 64 countries and has been translated into 19 languages.
For more information, visit http://www.myzone.org
PR Contacts
Lauren Furmanski - Digital Community Manager and Global Marketing Coordinator
Email: Lauren.furmanski@myzone.org
Gemma Bonnett-Kolakowska - Global Marketing Director
Email: gemma@myzone.org