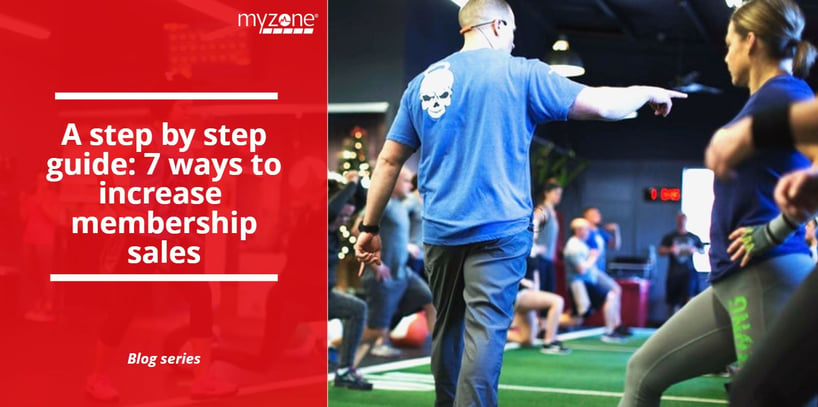 The fitness industry continues to welcome new competition every year. While more and more clubs are popping up, we haven't seen the same uptick in club memberships. So, the question remains what it has always been; How can I increase my membership sales?
Here are 7 steps to do just that:
Always advertise with an expiration date or a limited number of memberships.
It is important to create external urgency with any discount or promotion that you provide. You can do this by putting an expiration date on the offer or limiting it to say 75 memberships available on a first come first serve basis.
Promote your Unique Selling Point
What makes your business stand out against your competition? Sales always comes down to one question; Does the value outweigh the cost? Once it does, sales become easy. Do you have the latest technology such as Myzone in your club? Do see a gap in the market that will create a Unique Selling Point for your facility? A great example in our industry is Orange Theory who has rose above 1000 locations without closing a single 1, all by using Heart Rate Technology as a USP. Can you play offense in your market by using Myzone as a USP?

Hold member challenges and leverage social media
People love challenges because it provides them with a reason to workout. Friendly competition creates that external motivation members need to get the workouts done. Myzone clubs use our Myzone Effort Points as the metric to run 4-6 week-long challenges, gamifying the workout experience. Typically, clubs offer one guaranteed prize to all members that jumped the initial 2000 MEPs hurdle. This can involve something you are looking to promote further, such as 30 free days of Team Training or 2 free PT sessions. Next, offer a grand prize to everyone who goes above and beyond the 2000 MEPs milestone through a randomized raffle. For example, each 100 MEPS above 2000 earns a member one lottery ticket into the raffle for a chance to win the grand prize of your choosing. It's important to encourage your members to post their workout results as well as broadcast the challenge winners on your own social media channels. This is a great way to show your online community that you make working out fun and engaging.
Have referral prizes and up-sell current members
Any gym owner knows the easiest sales are referrals, so it is important to leverage your current members' networks, both professional and personal. It's been proven that the chance to win a big prize is more motivating then a guaranteed smaller prize, so to make it fun and encourage friendly competition, you can offer a raffle prize each month to all members that refer a friend to your facility. Don't forget to advertise the promotion throughout the club using lottery mechanics to motivate members. Also, it's important to remember to always up-sell members into higher yielding memberships such as Team Training and Personal Training by letting them test the water with free classes or sessions.
Have a fitness profile form for prospects to fill out
You need to make sure that you have what the customer is looking for and educate them along the process. Before a tour is done, gather information from the prospect, comparable to a doctor with a patient. Have a one-page form prospects are required to complete, performing the info gathering for you. It should include their contact info, fitness history, where they are presently, and their fitness goals for the future.

Engage and inform the prospects on the tour
Get each prospect on the equipment so they can see that it's not as hard as they may perceive it to be. Involve the prospects throughout the process so that they are actively part of the conversation. Also, make sure you have two options to offer the member once you reach the price presentation. Provide a choice of A or B, making sure you explain the value of each in the most simplistic way.
Always follow up
While this seems simple, so many salespeople lack the discipline to follow up. You will want to make sure you track all follow up activity using a CRM as well as automate the follow up process with emails and text messages. Make sure you are using relevant information, such as the benefits of exercise, to engage the prospect during the follow up process.