Motorcycle racer Daley Mathison aims to become one of the top 10 road racers in the world. The 27-year-old from North East England says Myzone is key to getting him race fit.
"Racing was always going to be a huge part of my life"
My Dad's love of adrenaline meant that motorcycle racing was always going to play a huge part in my life. I first stepped onto a bike at the age of 12 and progressed rapidly to international level. I'm currently classed as semi-professional but being a professional motorcycle racer is the ultimate goal. My aim is to become one of the top 10 road racers in the world. At this year's Isle of Man TT, I am privileged to be a 'seeded' rider and have been selected to start in the top 20. This means I am officially one of the top 20 road racers in the world.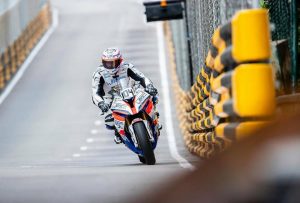 "Myzone ensures that I am race ready"
I was introduced to Myzone through my gym membership at Bannatyne Health Club and Spa in Darlington. When I'm not busy with racing, I try to have three PT sessions per week. Myzone is fantastic for tracking my workouts. Rachel, my personal trainer, borrows my Myzone watch to follow my progression during our sessions. myzone provides accurate heart rate readings and allows me to monitor my progress. It's also great for gamification. It drives me on, encouraging me to push more and show off all the MEPs I've earned. Mlyzone ensures that I am race ready; it's the perfect accessory to enhance my PT sessions.
"Myzone helps me to be fitter and sharper"
I find Myzone particularly valuable because I can use it both in and out of the gym. In addition to my PT sessions, I also do a lot of motocross to increase my speed and stamina and I've worn my belt whilst motocrossing. The fitter I am, the sharper and more reactive I become, which is essential when traveling at 205mph
"I take Myzone with me when I'm away"
My calendar of events this year is certainly a busy one with races across Europe and finishing the season in Macau. I take my Myzone belt with me when I go away and hope that the hotel has a gym that I can use. If there's no gym, I wake up early and go for a run - Myzone is great for me keeping motivated and on track, even when I'm away.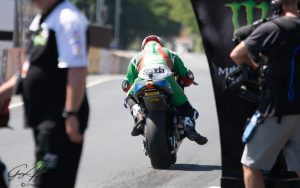 This year I plan to wear my Myzone belt whilst racing to get a better understanding of what my body and heart goes through when I race.