Active Nation is a UK charity which aims to increase participation in sport and exercise nationally. Karen Platt is an operations manager at the charity's Alpine Snowsports Centre in Southampton. The 52-year-old skiing enthusiast has transformed her life since Active Nation introduced its staff to myzone.
"I thought I was active, but Myzone showed me otherwise"
When Active Nation gave me a myzone belt last August, it immediately changed my exercise. I had always thought that I was an active person, but Myzone showed me that I needed to try harder. Active Nation staff have been offered a Myzone belt so it's great to be connected with colleagues and share our exercise experiences.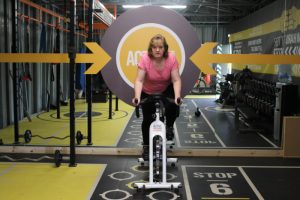 "I love exercising outdoors with myzone"
Working for Active Nation means I get to use all of their sites. In Southampton we have the choice of four gyms and four outdoor sites. At the moment my favourite is the Powerhouse in the Sports Centre, where I can exercise inside and out. I love the boot camps as I get to challenge myself and complete obstacles I didn't think I could manage
When working out I have the myzone App to hand to keep an eye on which MEPS I am earning. I like to make sure my workouts have a mixture of green and yellow MEPs and also include a warm up and cool down in the blue zone.
"I love sharing exercise experience s with my colleagues"
I love the community side of myzone and the sharing of exercise experiences with colleagues and friends. When I get a chance I check into Myzone Friday on Facebook and join in the workout and note the workout tips that are giving. If I don't get to it on a Friday, I will catch up on another day. I've had a go at the interval challenge and blipinator challenge on the App – these are great for mixing up your workouts and keeping them interesting.
Active Nation also sets monthly myzone challenges and group targets which are fun and keep us all working together.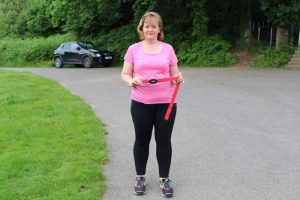 "Myzone means there are no more excuses"
Before Myzone I would try to exercise regularly, but if I didn't really feel like it I would make an excuse and leave it. Now I want to record MEPS every day, so no matter what the weather or how I feel I will find time to work out. I live 3.5 miles from work and I walk, jog or cycle to and from work every day even in the dark winter nights and early mornings, no excuses! The feel good factor I get from working out is addictive.
"Myzone has completely changed my life"
After using Myzone for a number of months, I'm fitter and have a lot more energy. I can jog for longer, cycle up steep hills and hold a plank for one minute.
Ten months ago a visit to my doctor revealed that my blood sugar level was 6.1, the wrong side of normal. My doctor told me I needed to do more exercise and lose weight or I would be in danger of my blood sugar level increasing and becoming diabetic. On my next visit to the doctor, I had lost four stone in weight and my blood sugar level was back to normal at 5.5 back. I gave my doctor a demo of myzone and he was impressed.
"I feel I can do anything"
Myzone has been life-changing for me. I feel I can physically do whatever I want and am not afraid to take on new challenges. I recently took park in a 5km assault course and passed my Level 2 ski instructor assessment. And I'm now learning to sail. I have only been able to achieve these things because of my improved fitness.
I will always be extremely grateful to Active Nation for being forward thinking and for giving me a Myzone belt.
For more information on Myzone visit www.myzone.org
For more information on Active Nation, visit activenation.org.uk