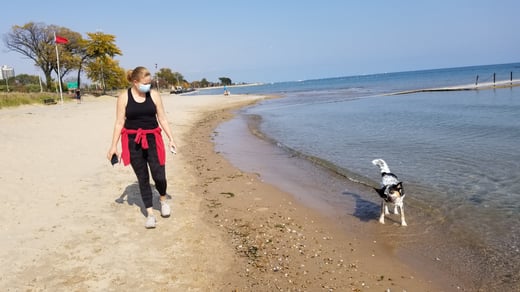 Everyone, at some point, feels like they don't have time for something. However, when you want the results for both body and mind, you must make time for physical activity. Meet Karen Graham, member of Chicago Fit Performance in the US and winner of the Myzone Global MEPs Challenge in October.
Even with the home fitness opportunities available, Karen believes there's nothing better than working out in a bricks and mortar gym. Below, she explains how she's been embracing the benefits of physical activity and why it's all about about making the time, rather than having the time.
There's no better time to start than now.
"Exercise has never been more important to me. It has helped that my gym has offered virtual workouts that I do live from home. That way I maintain the community and support of my gym friends and coaches.
"At home, I really look forward to doing my gym's workouts. My favorite is Tabata, because of the mix of exercises across a short time period. I also like strength focused workouts and feel that adding in weights has really helped me build strength. And, I like to get in a yoga class if I can.
"I love to get outdoors, too, for the daily dog walks and to go hiking near (or far from home) when able to travel."
Rewarding the whole community.
"When I exercise, I feel better both physically and mentally than when I don't make the time. Because working out makes me more relaxed, less stressed, and more energetic throughout the entire day, I look forward to getting my workouts in.
"Myzone helps keep me accountable to myself and my goals. I love the I can track the amount of work I put in across days, weeks and months so far. I also really like to see the intensity levels across different types of exercises and workouts.
"This win is so exciting! I did the challenge for myself but it's an extra award with the win for myself and my gym. I can't wait to continue on my fitness journey with the community of my friends and coaches from my gym, Chicago Fit Performance (CFP)."
What is the Global MEPs Challenge about?
Karen Graham is a winner of the October 2020 Global MEPs Challenge. Open to all Myzone heart rate monitor users, the challenge could be entered by earning 1300 MEPs throughout the month, with a total prize value of $25,000.
If you want to get involved in the next challenge, see your Myzone app for details or pick the best heart rate monitor for you if you haven't already.
Work Out To Help Out. In these times of uncertainty, exercise makes us feel happy, it reduces anxiety and it keeps us connected. We're stronger together.