Westpark Fitness, a privately-owned health and fitness club in Dublin, has slashed its attrition thanks to Myzone. We talk to General Manager Kevin Doyle.
We wanted to be ahead of the curve
Westpark Fitness is premier club with a wide range of facilities including a multi-floor gym filled with state of the art equipment, Ireland's only stainless steel pool and fitness classes seven days a week. The club is 30 years old and has some 5,000 members. We are located next to a college, so we have a lot of young members, but our second biggest age group is the over-65s.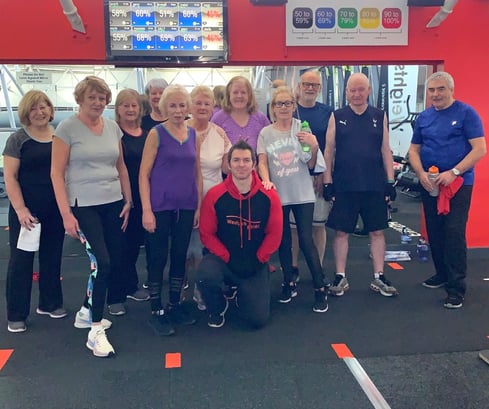 We saw the trend for wearables and heart rate technology some years ago and wanted to be ahead of the curve. We looked at the big brands on the market, but chose Myzone because we wanted a product that was easy to use and would appeal to ordinary users.
Members stay for longer with Myzone
The technology has been in place for two years now and it's completely embedded in the club. For us, Myzone is a retention tool. People who use Myzone train consistently and stay for longer. It's as simple as that. One of the great things about Myzone is that it's not restricted to the club. Even our hiking group uses it.
Your staff must become your Myzone champions
You can't just stick Myzone behind the reception desk and expect it to sell. You've got to educate your team so they believe in the technology. Your staff must become your Myzone champions. They have to be passionate about it if the technology is to become part of your culture.
We've developed a class around Myzone
We were in the process of upgrading one of our training areas when we went to Myzone University. After the event, we decided to create a dedicated space for our new Myzone class instead. WP Burn is a 45-minute class that combines strength and cardio exercises with circuit style training. The session accommodates 40 members and everyone wears a Myzone belt. Using the technology, our instructors become coaches who encourage participants to push themselves that bit harder to get into the relevant zones. The results are displayed on huge screens and if everyone reaches a designated tile – diamonds rain down on the screen. It's a really motivational and popular class.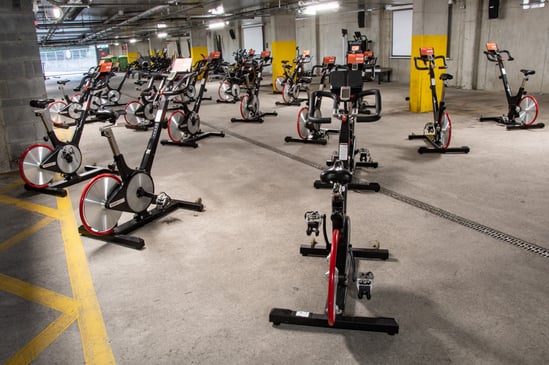 Class photos create strong engagement
At the end of the class, we take a group photo. I've been surprised by how effective these photos are for engagement and cementing the sense of community. If someone has missed the class, they will still receive the photo, which creates a strong feeling of missing out. Myzone is great for that.
It's a strong tool for encouraging the ordinary Joe
You always have some members who are obsessed with exercise, but they aren't our primary concern. Our focus is on retaining the 80 per cent of people who struggle to stick to exercise. Myzone is a strong tool for encouraging the ordinary Joe to maintain activity. The monthly goal of 1,300 MEPs is very achievable if you exercise regularly. We encourage members to reach that target with a monthly draw. Anyone who hits more than 1,300 MEPs is automatically entered and can win a voucher worth 100 Euros.
Attrition has dropped by 15-20 per cent
Approximately 1,800 of our members have a Myzone belt, with people aged over 50 using the technology more than any other age group. We actively track our Myzone users and identify those who have missed the monthly 1,300 MEPs target. We contact them via text and email to help them reach their target the following month.
Most people cancel a gym membership because they don't feel they are getting value. Myzone overcomes this by encouraging consistent exercise, which boosts retention. We've seen a massive reduction in attrition levels – approximately a 15-20 per cent drop – since working with Myzone. It's such a strong training tool. We've had members swipe into the club, then leave and drive home again because they've forgotten their belt.
Myzone has been one of our strongest assets during lockdown.
Myzone came into its own during lockdown; it's perfect for remote training. It helped us stay connected and in constant communication with our members. We commented on people's workouts, answered questions and provided encouragement. We also ran our normal Myzone challenges, which were popular –280 people took part in our June challenge. Ultimately we wanted people to keep training because we know that will increase the chance of them coming back. And for that reason, Myzone has been one of our strongest assets during lockdown.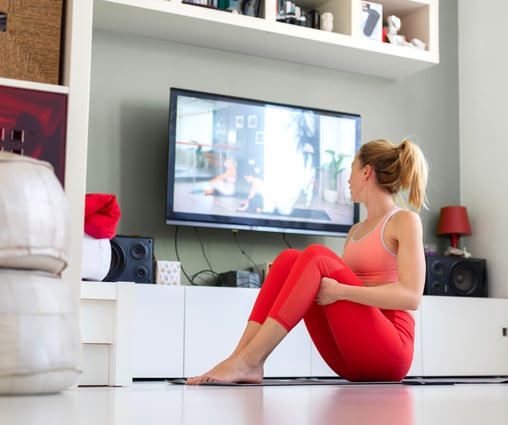 Members want to work out with an instructor they know
One thing that really surprised me in lockdown was that despite all of the free content online, members preferred to take part in our classes. Members want to work out with an instructor they know; they want that connection to the club.
We have to accept that times are hard at the moment
We reopened on 13 July. The members who are using the club are very happy and they feel comfortable. But we've had an awful lot of cancellations and around 20-30 suspensions at day. It's a bitter pill to swallow, but something we just have to accept.
Since reopening, we've discounted the Myzone belt to 30 Euros to help retention and 42 people bought one in the first week.
We have also moved our WP Burn studio into our underground. The space has grille so is naturally ventilated. Members love the urban feel of the area and have asked for the studio to stay down there!
We are launching an online membership
During lockdown, we delivered all online content, including WP Burn, for free. In August we will be trialling our new online membership, which includes live classes with MZ Remote as well as other streamed classes. The trial will be free, but we aim to charge a 10 Euros, on top of membership for members and a 15 Euros for non-members from September. MZ Remote will come into its own with the online membership and let people feel part of a group again.
If you would like to explore how Myzone could improve your member's virtu workout experience, we would love to hear from you! Click Here to speak with a Myzone team member and get started.