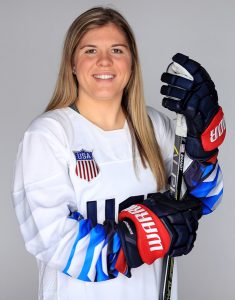 Ice Hockey all-star, Hannah Brandt, has already established an impressive career for herself. The 25-year-old says Myzone is essential in maintaining her health and fitness.
The 2018 U.S. Olympic Women's Ice Hockey team won their second ever gold medal, after Team USA earned the first inaugural gold medal in the event at the 1998 Olympic Winter Games, thanks to the help of Myzone.
Minnesota Native, Hannah Brandt, sat down with Myzone to discuss how the benefits of receiving real time feedback on her heart rate, intensity, and calories from the help of her MZ-3 heart rate monitor has significantly impacted her training.
"I can't miss a workout without it"
"I have been using my Myzone belt consistently since I received it back in December of 2016. I can't miss a workout, practice, or game without it," said Brandt.
Brandt was the winner of the 2012 Minnesota Ms. Hockey Award, then went on further to be named to the United States women's national ice hockey team. In January of 2018, Brandt was selected to represent Team USA at the 2018 Winter Olympics, scoring two points in five games.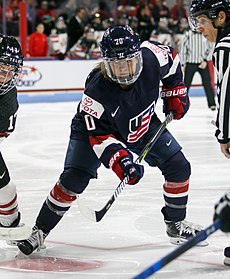 "Myzone keeps me honest with how hard I am working"
"Myzone motivates me because it keeps me honest with how hard I am working, whether that be in the gym training, or on the ice preparing for our next game. It helps me to see how intense my workout was, and therefore know how I need to recover. I also enjoy having many connections through the app and being able to see what they are up to," said Brandt.
Known internationally for his pioneering work in the field of Strength & Conditioning, Michael Boyle is regarded as one of the top experts in the area for Sports Performance Training.
"My teammates rave about the benefits of seeing their heart rates during their workouts"
"I have worked closely with Mike Boyle and it was him that introduced me to Myzone, but unfortunately, not in his gym. Many of my teammates, however, did train with Mike inside of his gym and rave about the benefits, like motivation and accountability, that come from being able to see their heart rates throughout their workouts," said Brandt.
The Myzone App gives real-time feedback during each workout to encourage effort in the moment. The app is user-friendly and intuitive, allowing users to see results anywhere and anytime, which is extremely important for on-the-go athletes.
"The app makes tracking my info easy"
"I always use my phone to be able to track my heart rate during workouts. Depending on the workout I am doing, I use the Myzone app to determine my rest periods, and to make sure I am getting my heart rate into the appropriate zones. On average, I'd say I earn anywhere from 4,000-6,000 MEPs a month, just dependent on if I am in or out of season, but the app makes tracking that info very easy," Brandt told Myzone.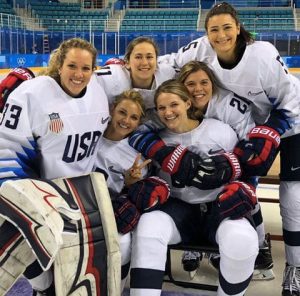 Friendly competition amongst teammates is always a healthy and rewarding way to stay connected and motivate each other. When asked about a typical MEPs challenge amongst the USA Team Brandt responded, "Haley Skarupa would definitely win, hands down."