Whether you're in a HIIT workout, a studio gym class, or running outside, testing your cardiovascular endurance can be tough. But it doesn't have to be.
Working hard feels easier when you're exercising as a community. You're invited to a cardio experience like no other, and you can do it wherever you like. So grab your heart rate monitor or just join in on the Myzone app and let's get moving together.

Join the cardio community that welcomes everyone.
Let's face it, cardio can be dull. Plodding away by yourself on a treadmill or going nowhere on a stationary bike with only a podcast to keep you company can soon become tedious.
Myzone's Cardio Club, part of the MZ-Remote+ on-demand fitness platform, puts the fun back into cardio activity. It allows you to join a community of Myzone movers from across the world, all using their Myzone heart rate monitors, to recreate the buzz of the studio experience anyway you choose to exercise.

Work out wherever you want to, together.
The beauty of Cardio Club is that you can take part wherever you are and however you want to move, but still experience the motivation and camaraderie of training with others. It's all about the effort you put in, says Myzone Master Trainer, Billy Burchett.
"You can use equipment or just your own bodyweight," Billy explains. "One Myzone mover runs up and down her stairs; another drags her cross trainer out into the garden, while another works out on a rowing machine in his garage. Others go out running or cycling and some schedule Cardio Club for when they are in the gym. You could be rowing in a boat in the middle of Lake Michigan and still take part in Cardio Club. All you need is 4G."

Fitness classes on your phone in the gym or on TV.
During Cardio Club's live classes, you will see the instructor on your screen as well as the personal effort tiles of you and your fellow Myzone movers taking part in the class. If you're at home, share your screen with your TV for an even better experience and follow the coach who will guide you through a rollercoaster of different heart rate zones, suggesting exercises if you are using your bodyweight to help you reach the upper heart rate zones, and giving personal shout-outs along the way for that extra motivation.
"By the end of the class, everyone should have earned the same number of MEPs because they've all put in the same amount of effort no matter what their fitness, age or the kit they are using," says Billy. "We never ask Myzone movers to do something they're not capable of. Elements of the class will be hard, but my red zone is different to your red zone, so we all get better together. We have a shared experience."

Mix up your training and boost your recovery.
Training for events can be a lonely experience. Cardio Club is the perfect way to liven up your training while improving your performance.
"The more time you spend in the green zone, the more you improve your cardio fitness. Over time you will work faster in the green zone, whether you are running, cycling or using a cross trainer, and become much more efficient," says Billy.
"Recovery is one of the most important aspects of fitness so we do a lot of recovery work in Cardio Club. In time, you will see an improvement in how quickly you recover from working in the yellow and red zones, proof that your fitness is improving."
Join participants from around the world.
With Cardio Club you are joining a community of Myzone movers from Australia, USA, Canada, UK, Europe and beyond, all working out together but in their own way.
"Everyone trains at the same time, putting in the same amount of effort, which creates a fantastic sense of community. There are loads of Myzone movers I haven't met in person, but I feel I know them because we have a shared bond," says Billy. The Cardio Club chat group on MZ-Chat helps to strengthen this bond with Myzone movers posting messages and engaging with others after the sessions.

How do you join a Cardio Club workout?
It couldn't be simpler to get involved in Cardio Club. Simply open up your Myzone app, head to the menu and hit Classes. Under the Live option, select a class from the vast timetable of sessions - there really is something for everyone.
Five minutes before the class is due to start you can tap the My Tile button to see your live workout tile, and click on the green MZR button that appears to join to the session. And of course, make sure you are wearing your Myzone heart rate monitor.
You can choose to share your video if you want the instructor to see you during the workout for an even more personal experience. As Billy explains: "It's great because as well as seeing your heart rate tile, the coach can make sure you are using correct form during the exercises. People love to share where they are in the world with other Myzone movers like a beautiful sunrise or views along the coast where they are running or cycling. It adds something special to the session."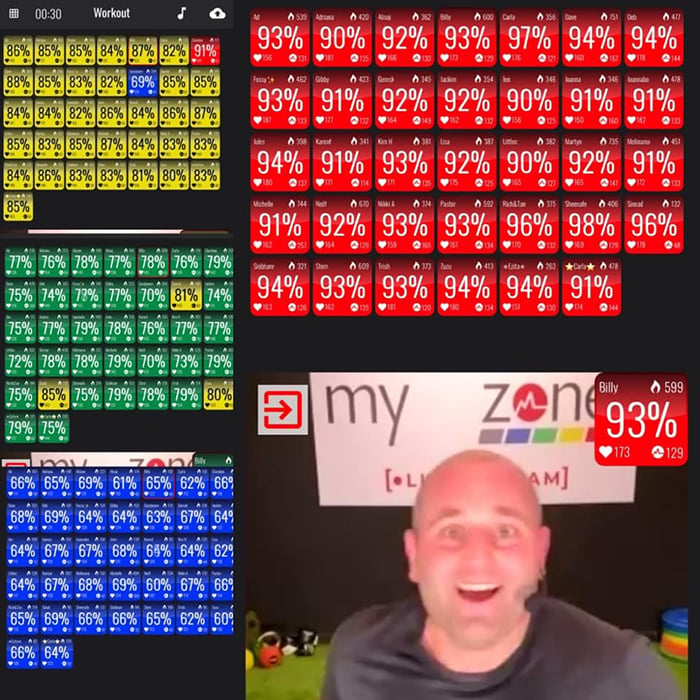 Live fitness classes through the power of Zoom.
Live classes run every day of the week in addition to a schedule of pre-recorded sessions, running every hour on the half hour, which you can book as part of MZ-Remote+. The live classes run on Zoom (you don't need an account to take part), so you're essentially joining a Zoom meeting through the Myzone app.
You receive a one-time Zoom ID to log into the class. You can even enjoy Cardio Club without a Myzone belt by registering with a zero belt ID. Of course, you won't be able to see your heart rate or earn any MEPs, but you'll still get a great workout.
To really make the most of Cardio Club and enjoy the solidarity of being part of the wider Myzone tribe, you'll want to get yourself a Myzone heart rate monitor. Cardio Club means no more training on your own, counting the miles or watching the clock - 45 minutes of cardio has never been so enjoyable. It's time to say goodbye to monotonous cardio workouts and say hello to Cardio Club.
For more information on the Myzone app, visit the app homepage. If you haven't already, buy a heart rate monitor and get moving with the Myzone community.