Myzone is hosting a massive Cardio Club class live from MANOR London to celebrate National Fitness Day and embrace the joy of movement.
No Myzone heart rate monitor? No problem! Just download the Myzone app and follow master trainer Billy Burchett.

A cardio workout for however you want to train.
Taking place on Wednesday 22nd September, the free event will see people from across the world come together for an exhilarating live cardio workout, led by Myzone master trainer Billy Burchett alongside some of the UK's leading fitness experts.
Whether it's a workout in the gym, power walking in the park, running up and down the stairs or sweating it out on the stationary bike, any cardio counts. The session is suitable for people of all ages and abilities, so friends, families and work colleagues can all work out together anyway they choose – no Myzone belt is needed. Read more about what people think of Myzone Cardio Club.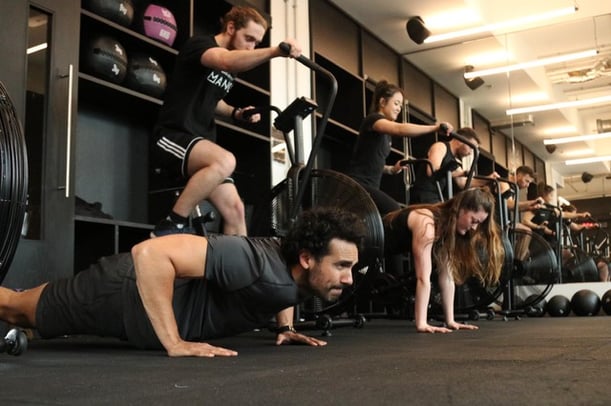 Livestream Cardio Club wherever you are.
Gyms, studios and leisure centres can livestream the Cardio Club class to give members an unforgettable experience where fun and sweat is guaranteed.
"We want to commemorate the 10th anniversary of ukactive's National Fitness Day and celebrate the mental and physical benefits of activity with a spectacular cardio workout," says Dave Wright, founder and CEO of Myzone.
"That's why we are inviting club owners as well as individuals to unite in fitness and take part in this one-of-a-kind group session, wherever they are and however they want to move."
How to join the National Fitness Day Cardio Club.
The live Cardio Club session will take place on Wednesday 22nd September at 6.30pm BST.
To take part, Myzone movers can book the Cardio Club class in the usual way via the Myzone app. People without a Myzone belt simply need to download the Myzone app, tap 'Register Your Belt' and follow the prompts entering 0 [zero] for the belt ID.
Then open up the Myzone home page, hit the 'Book A Class' icon and select Cardio Club from the timetable. Five minutes before the class is due to start you will be able to join. Head into the 'My Classes' page and tap the link to be taken straight to the class. To find out more visit the support page on how to join.
For more information on the Myzone app, visit the app homepage. If you haven't already, buy a heart rate monitor and get moving with the Myzone community.