Smart training starts with a solid foundation. We all need the right basic skills to get faster, stronger and more agile. It's important to make sure your tech is set up for success, too. Before your use your MZ-Switch, follow these steps for the best results that will kickstart your new goals.
Wearing your heart rate monitor on your chest.
Tempting as it may be, don't press the power button when you exercise with your Switch on your chest. If you do, as soon as the ECG sensors detect your heart rate, your belt will turn off with a beep. It should activate again a few seconds later, but to avoid confusion, avoid the button for chest-based sessions.
Also be sure your device is snapped in the right way around when looking at it straight-on. The Myzone logo should be readable. The belt traces the electrical pathway of your heartbeat, so it's important that it faces the right direction to ensure an accurate and consistent reading.
Wetting the sensors on the back of your strap speeds up connectivity. We recommend doing this before strapping in each time.
Make sure your strap fits comfortably snug. While many wear the module in the center of their chest, others find they get better connection with it shifted to the left. See what works best for you.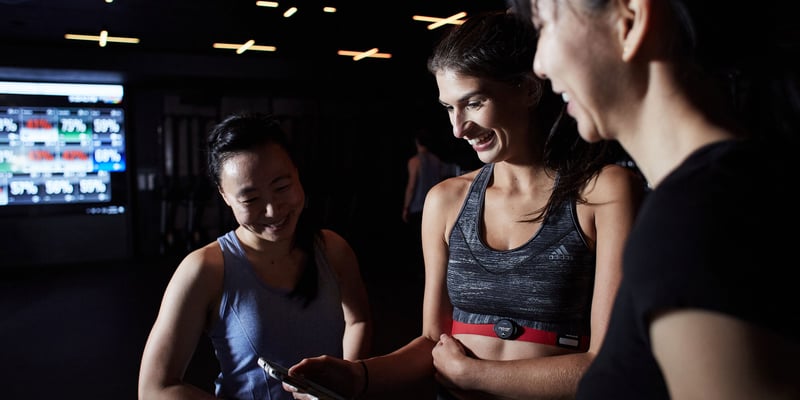 Wearing your heart rate monitor on your wrist or arm.
Now it's time to use the power button. Press and hold the pulse symbol (it looks like an M) on the module until you hear it beep once and the light flashes green.
Running, biking, hiking and other rhythmic, non-gripping movements are best for the arm and wrist straps.
Want to track your heart rate swimming some laps or riding the surf? The wrist strap is the only one that should be used in the water.
For the best increased accuracy using the PPG sensor, we recommend placing the module on the outside of your arm.
Be sure that in either location, you have your Switch strapped in so that you cannot see the LEDs flashing against your skin, but not too tight, as that can constrict blood flow.
Updating your heart rate monitor.
We're constantly updating the tech to ensure accuracy, so do be sure you run firmware updates when they are available. You will receive a notification in the app when your belt is connected to the workout screen. They should only take a moment to run, but if you need to get moving right away, you can dismiss it and run once you are done. To update your heart rate monitor's firmware when it suits you, open the app and go to settings > utility > update firmware.
For more helpful articles, or to get in touch with our team visit here.