Why traditional physical education in schools is a thing of the past
3 min read
Thursday, 11 November 2021
Whether you know it as PE, phys ed, games or just traditional physical education, how we teach our children about movement is changing for the better with Myzone in schools.

To find out more about these changes through an innovative Myzone education partnership, we're speaking to Jonathan Wilden, chief executive officer of Folio Education Trust, leading the charge for health related fitness (HRF) at Coombe Wood School. One of four schools in Folio Education Trust, Coombe Wood is located in south Croydon, and for local girls and boys aged 11 to 18.

How is Coombe Wood School changing physical education?
"Coombe Wood School has a passion for positively disrupting what children get up to when they do what we call health related fitness," explains Jonathan. "In a secondary school that's traditionally PE.
"When I say positive disruption, I mean, to take all the good bits and to analyse the bits that can be better. We are not a school that obsesses about sport. We are a school that obsesses about movement, being healthy, and developing a passion for moving better, all the way through life."
What is the school using to inspire children to move better?
Staff members of Coombe Wood School have instilled a passion for movement in the students by teaching them the importance of understanding heart rate. Every student has their own heart rate monitor for HRF lessons and appreciates the mindset of effort over ability.
Jonathan continues: "When the children are using Myzone, the most important thing is that it helps them to learn about their body; how it responds, because everyone's different. It's important that we all understand that when we teach the children, we're adapting to those differences.
"If they can learn what it feels like to be out of breath, which is something that they shouldn't be scared of; if they can learn what it's like to work hard, then it gives them the confidence for the future. If they use Myzone intelligently, then when they're not in a Myzone environment, they can still be brave, and they can still be confident in moving.
"That's probably one of the things that prevents children from taking part in, in health related fitness throughout life because they're maybe a little bit scared of what lies beyond when they get out of breath. And one of the things in the school is trying to teach them that it's OK to be tired. So it just gives them the confidence. So that's the main driver for using it."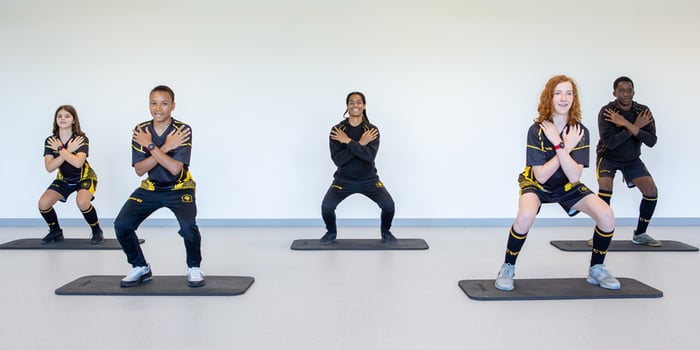 How can other schools improve physical education lessons?
"Coombe Wood School has really taken its time to embrace technology," Jonathan explains. "It's not because we haven't understood it or because we haven't been excited by it, but we've had to make sure that the excitement is channelled in the right way to the children.
"If we just gave them the MZ-Switch heart rate monitor, then then they wouldn't necessarily understand the power of what they have on their wrist. It's more than just the gamification of the heart rate. It's understanding the importance of how it rises and how it falls.
"My advice to a school would be to make sure that you have a kind of a strategic way of opening up to children, which sees the end goal and don't rush towards it. Educate the children about what Myzone is, how to use it, how to get the best out of it; even educate them about the zones and what they mean.
"The red zone is a great place to be, but also not a great place to be. The grey zone is a great place to be, but also a place where people can work harder to get out of. There's a whole mindset and a whole psychology behind where the child is and how hard they're working.
How can a heart rate monitor become a school essential?
"I said right at the beginning of this in quite an aspirational way that I wanted a child to jump out of bed in the morning, and when getting ready for school, I want them to put their uniform on, grab their bag, put their books in, put their Myzone Switch heart rate monitor in, put their pencil case in and then come to school. And we are confidently moving towards that.
"We will get to a point where that will be the habit. Myzone is a piece of equipment – a tool – that can help people learn and be confident in themselves. The vision would be that, in Coombe Wood School, it becomes that essential thing that goes into the bag, because the child knows that it's going to be useful that day."

For more information on the Myzone app, visit the app homepage. If you haven't already, buy a heart rate monitor and get moving with the Myzone community.