Meet the tennis player serving up new opportunities for women to move
4 min read
Wednesday, 12 July 2023
Inclusive health, wellbeing and fitness initiatives can improve lives for countless people around the world. However, it takes some incredible people with strong leadership and dedication to make these acts of kindness and support stick.
Zeniece Hall is head of sports development at BADU Sports, raising the profile of young women and offering access to new opportunities in movement from over a decade of experience on the tennis courts.
Here, she shares the reasons that keep her moving, how to deal with when things go wrong, and why it's Roger Federer that she'd want to exercise with more than anyone else.
Empowering, educating, and uplifting with BADU Sports

"BADU Sports is a black-led sports and mentoring organisation. We drive social change by empowering, educating, and uplifting our community.
"We break down barriers to sports, provide opportunities and use a holistic approach to develop the individual ensuring they have the tools, knowledge and skills to thrive in their chosen industry.
"My role as head of sports development is trying to get more people into new sports that they haven't tried before, while trying to ensure that women and girls are at the forefront of what we do, because we don't see enough of it unfortunately.
"That's especially the case with girls who look like myself, the black or global majority group, it's important that they're seen not just in participation levels but also leadership positions as well."
Movement and motivation that starts at home

"I come from a sporty background. All of my family played sports – my mum was a runner and my dad was a basketball player. I think naturally that passed down to me. I started off with karate. I love the feeling when you finish a workout or any kind of physical activity, it just kind of clears your head. Now I've been playing tennis for 14 years, so that's my main sport.
"My mum definitely motivates me to move. We always do little challenges together – like if we're walking down the road she might say 'sprint to this bus stop.' She's really competitive and she definitely inspires me. Also, working for a sports company, you have to keep fit so you can keep inspiring the next gen as well."
Why it's important to try something new
"I love tennis but, just in general, I love fitness and being in the gym. I like trying new things, like I did a Blaze class for the first time and it's definitely something I'd do again in future.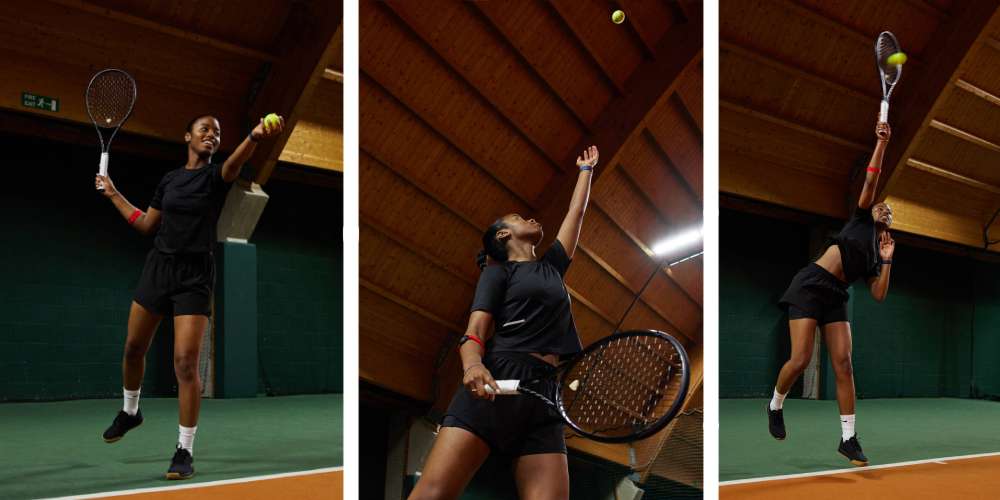 "My advice to anyone starting out on their fitness journey is to keep trying something new. It doesn't have to be the usual gym or a certain sport. You can go for a walk to start off, but try to enjoy it as much as possible. If you're not enjoying it then you're not going to want to do it again, so that's important.
"I definitely want to get fitter with my cardiovascular endurance. In tennis you need that in order to keep the standard high when the match is going on for a long time.
"That's my goal at the moment. I want to do more yoga, too. I think a lot of us neglect that side of sport – the recovery and just general stretching. I always try to do more yoga when I can."
Overcome any barriers to physical activity

"The biggest barrier to physical activity for me is just time - I am a full-time student, I work full-time and play tennis full-time, too. Tennis is the movement, but the challenge is to stay motivated instead of feeling too tired after revision or exams, and just getting out there to get moving.
"I like to pace myself, especially with tennis. You can't just go full-out, otherwise it doesn't really replicate the match and the need to last if it gets to two sets all. I try to take my time with it but also have high-energy points where I'm putting everything in.
"It's important to understand your effort levels, especially with tennis. Sometimes you'll want to go for the big point or the big serve, or the big finishing shot, but you have to think long term.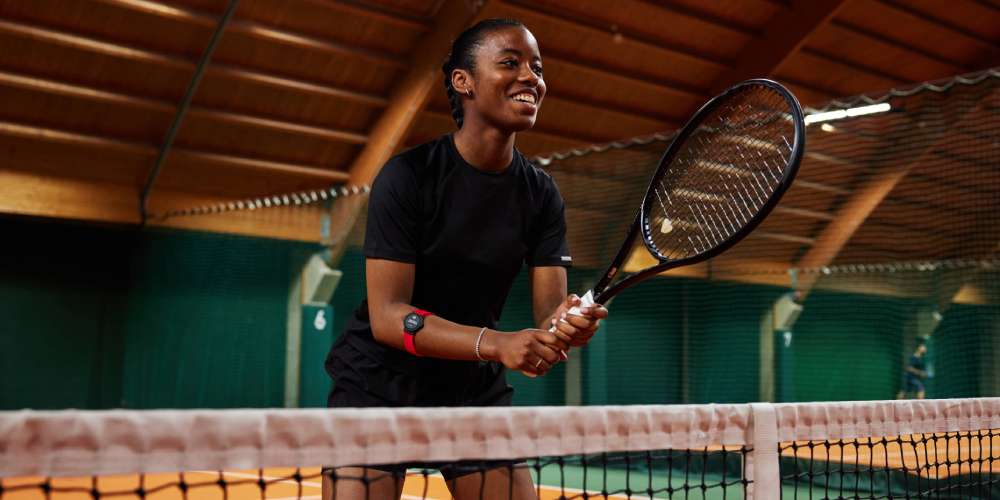 "By seeing my energy levels in what I'm doing, I can map out my journey and relate it to my tennis match. That means that when I am in that situation again, I know what I should be feeling like in terms of effort so I can stay at a good performance level."
Avoiding embarrassment, and inspiration from Roger Federer
"I don't think there are that many embarrassing moments that I've had now that I've grown into my sport, but there have been a few times in the past where I've missed a serve completely, or hit the top of the racquet.
"It's happened in tournaments as well. That's quite embarrassing. I don't take it with me in a game though. I focus on my breathing quite a lot. I'm not one of the loud screamers, and I don't bang my racquet. I try to always keep it calm, let anything go, and focus on the next thing.
"As for who I'd like to exercise with more than anyone else… Roger Federer, he's a complete legend. Of course, Serena, but everyone probably says her."