Myzone is kicking off a new partnership with Farm Fitness as its official heart rate monitor partner for its outdoor and soon-to-open indoor training facility.
Myzone will use its heart rate zone technology to create a fair playing field for all members of the Farm Fitness community to compete. With a diverse audience of aged seven years old to over 60, the importance of rewarding effort and not ability is key to Farm Fitness' inclusive community atmosphere.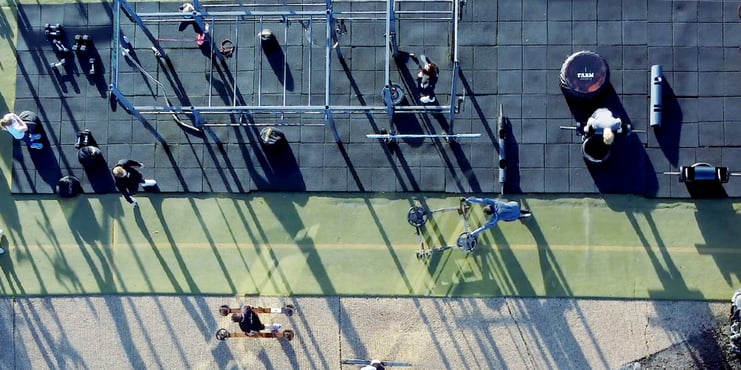 This is how you motivate and engage a community.
"We're excited to see the adoption of Myzone by Farm Fitness to help continue growing and engaging its community," explains David Stalker, CEO Myzone EMEA. "Knowing their team's resolution to keep members motivated and to provide the greatest sense of community possible, this new partnership with Myzone creates an idyllic addition to this unique fitness site."
Installing a large screen within the facilities will allow all Farm Fitness members to recognise, in real time, the effort that they're putting in, both indoors and out. While also allowing founder Tom and his team to empathise with each member during their workout and embracing the community's competitive side by gamifying their workout experience.
Getting people moving, both in and out of classes.
"We have chosen to incorporate Myzone into Farm Fitness to further allow us to engage with our members both in and out of our classes," added Tom Kemp, Farm Fitness founder. "Community is at the heart of our ethos, and we believe that through the introduction of Myzone, we can enhance the team comradery experienced by our members, visitors and annual competitors."
To celebrate the set-up of Myzone within the facility, Myzone trainer Billy Burchett will host an exclusive Farm Fitness Cardio Club at the outdoor site at 8:30am on 5th March. All Myzone members will be able to join Billy and the Farm Fitness community via the Myzone app.
Following this event there is going to be a competitive three-part fitness series 'Functional vs Obstacle, powered by Myzone'. Farm Fitness and its functional fitness community will go head-to-head with Rumble's obstacle course racing team, in three unique challenges that will push both teams to their competitive limits.
3rd April Round #1 - Functional Fitness @ Farm Fitness

24th April Round #2 - OCR Time Trial @ Rumble

29th May Round #3 - Turf Games 'The Engine' @ Farm Fitness
About Farm Fitness.
Farm Fitness is a ferociously burning beacon on the UK fitness scene. It attracts spectators and participants from all over the country to come and take a swing at its alchemic blend of modified strongman, functional bodybuilding, callisthenics and blistering cardio efforts – all carefully programmed to be accessible for all fitness levels.
Set against a rolling countryside backdrop, its diverse membership base regularly sees teachers and housewives training alongside rugby players and amateur strongmen, all looking to give their workouts a rural shake-up.
The new 'Farm Fit Kids' classes also provide the perfect setting for the next generation to take their first few steps (and jumps!) into the world of fitness, in a fun, safe, nurturing environment.
Outside of their busy regular schedule of classes, Farm Fitness also hosts sell-out fitness events, covering everything from 10k races to competitive lifting, as well as acting as a venue for those looking for a unique location to put on their own special event.
For more information visit farmfitness.com