Get to know the voice of the obstacle course, Spartan Phil
4 min read
Friday, 10 June 2022
Obstacle course racing has plenty of personalities in its midst. But none bigger than Spartan Phil, a man motivating thousands and proving that some people were just born to do their job. AROO!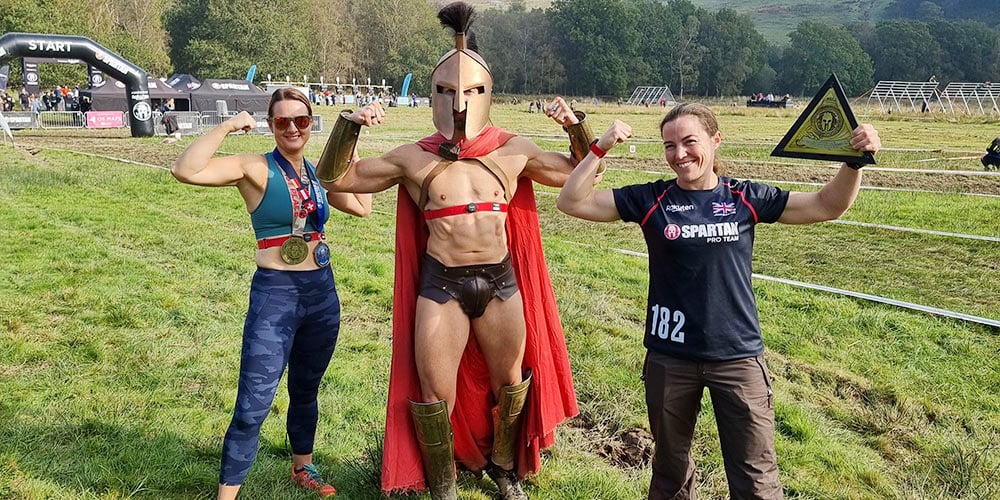 If you've ever even been within earshot of a Spartan race start line, chances are you'd have heard this man's voice. Putting the abs in absolutely inspirational, he sends every racer out for an experience that often changes lives.
Forget Batman… Without further hesitation, scroll on and get to know the real caped crusader, Spartan Phil. If you're interested in taking part, read how a Spartan race will take your fitness to the next level.

For anyone who may not know you, please introduce yourself and your role within Spartan.
My name is Spartan Phil and my job is start line MC for Spartan race. Basically, if you run a Spartan race, you have me sending you off!
What got you into Spartan racing?
To be honest, I don't actually do a huge amount of racing! It's not that I don't want to, but my hours over the weekend are pretty long so if I ever get the chance I'll run with the sweepers [the Spartan staff who run around to make sure there's no-one left on course].
Anyone who knows me will be aware that my favourite Spartan distance is one that doesn't yet exist... It would be about 100m with 75 obstacles. SPARTAN PHIL NO LIKE THE RUNNING!
How did you start your role as Spartan Phil on the start line of each race?
My friend Greg was the videographer for Spartan and mentioned that they were looking for a new start line MC. They sent me the speech.
Greg and I snuck into the Media Department at the college we were working at; I did roughly 2000 press ups, took my top off and shouted at him.
He then went home and edited in footage of the 300 movie so that every time I said: "WHO AM I?" 300 oiled-up monsters would scream back "AROO, AROO, AROO!"
Needless to say, the owners of Spartan Race hired me on the spot!
What's the best thing about inspiring so many people to start their Spartan race?
Making connections with the racers – definitely. Having people come up to me and say they could hear my speech while they were struggling on a certain part of the course and it helped them to carry on is amazing.
Winning the "Unsung Hero" award at the Mudstacle awards in 2018 was also ridiculously cool.
How has Myzone helped your training and overall wellbeing?
My major problem is that I'm not really a big fan of cardio. I get skinny really quickly so cardio has never been my BFF. However, I'm also getting well old now and I'd like my kids to have me around for a while, so health rather than aesthetics has become much more important to me over the last couple of years.
I'm also massively competitive with a bit OCD – this is important because Myzone not only pushes me to get out and get more cardio in my training, it also allows me to meticulously – some people might say obsessively – analyse my results AND I get to share them with my Spartan friends. It's like it was made for me!
Oh, and the strap is the same red as my cape so I can accessorise fabulously.
What are your top tips for anyone looking to get to the start line of their first Spartan race?
Honestly, we promote the races by saying that anyone could get off their sofa, drive to an event and have a go. Yes, there are some tricky obstacles, but you don't have to do them! Do the burpees instead (if you can't complete an obstacle at Spartan Race you have to do 30 burpees).
On that note, I guess the one thing I would advise is practice doing burpees... Lots of them... So many that you start to wonder what your life was like without them... Then, when you get to the point that you no longer hate them; only then, you have achieved Nirvana young Padawan.
What's your favourite thing about race days?
Sorry to repeat myself, but meeting the racers. When I get breaks, I tend to walk round the festival area and take photos with racers. It's the most rewarding part of my day because everyone is just so lovely.
When I first started working as an actor years ago, the best bit of advice I ever got given was "The people who come to watch on a Wednesday matinee paid the same money as the ones on Saturday night."
It basically means that whether you're in a huge wave at the beginning of the day, or a smaller wave towards the end, my job is still the same and I have to give it 100%.
What's something you wish more people knew about Spartan races and the overall lifestyle?
LOVE this question because it's so easy to answer! I wish more people knew that it isn't just meatheads, mud freaks, and people with death wishes that come to Spartan.
We are an incredibly welcoming, supportive bunch who will love you just as much whether you're a seasoned pro, or an absolute newbie with no exercise experience. If anything you'll get more love because we know how hard it was to make the decision to do something to improve your quality of life.
We love inspiring kids to get healthy and always have kids races at events, so we're incredibly family friendly - come along, bring the family and see for yourself!
Is there anything else you'd like to add?
Just a massive thank you to David and the team at Myzone for their continued support. I find myself in the incredibly fortuitous situation where I can speak really passionately about how much I love the product because I actually do.
Another great thing about working for Spartan is that they create partnerships with amazing, cutting edge fitness brands and I'm often lucky enough to benefit from these relationships by receiving support and kit from them which helps me to continue my fitness journey.
Thanks so much guys, and I promise I'll start posting my results again real soon!
• Follow @spartanphil_uk on Instagram. For more information on Spartan racing and to find a race, visit spartan.com