Viola Oberländer talks elite racing, dreaming big and never giving up
8 min read
Wednesday, 5 October 2022
Originally starting out in gymnastics, Viola Oberländer transitioned into running and fitness training. Now she's reaping world records and podium places in HYROX and Spartan events around the world.
As well as weekend races and event preparation, Viola works full-time in sports management and also works as a coach. We speak to her below about her training, her motivation and her advice for anyone looking to get into a new physical activity challenge.
You can also read this interview in German.
If you haven't already, get your hands on an MZ-Switch heart rate monitor to monitor your performance and reward every effort with three ways to wear – on your chest, arm or wrist.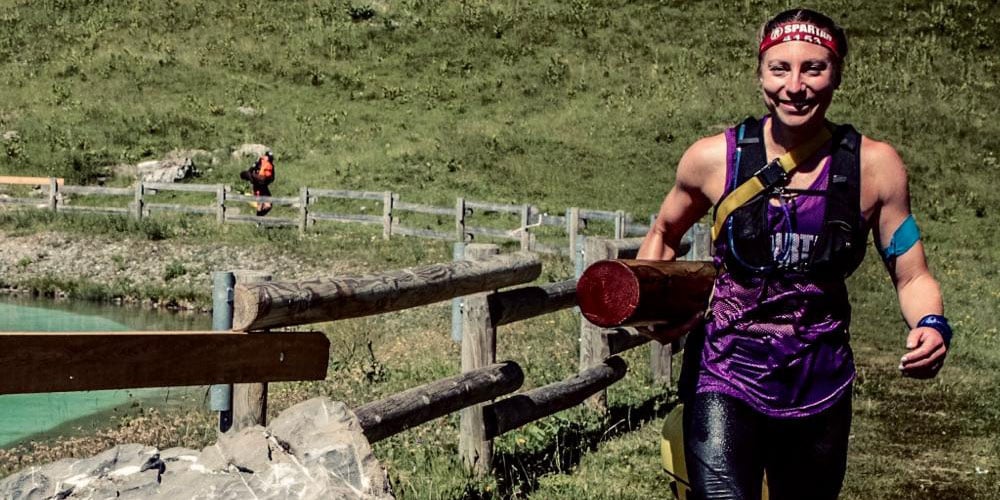 What got you started on your fitness journey?
I started fitness training in mid-2018, initially only with small outdoor equipment and then at some point with the classic cardio equipment such as row, ski and bike. The training has developed quite quickly and has become more and more extensive.
Tell us about some of your achievements that you're most proud of.
I'm proud that I've discovered the type of sport that I enjoy a lot and that I'm also able to do without many limitations - at least for the time being. Most of the time, I can organise my weekly schedule however I want and being able to have lot of fun at the same time. It wasn't always like that, so I pride myself on mostly just doing what I want.
I am of course very happy about my sporting successes, although pride is the wrong word here. I am happy that I am successful with my passion and that I can keep improving. My training partner and I were able to hold the world record in the HYROX double for a long time. After just one competition in Single Pro HYROX I was permitted to start in all other major competitions in the Elite races.
So far, I've taken part in the Elite 12 race (2020 World Championships), World Championships 2021, World Championships 2022 and the European Championship 2021 and was able to play at the higher end, despite various hurdles. Certainly, this makes me happy and encourages me to do a little more each time.
What's the most important piece of information you received and how has it helped you?
Everything was going very well for me until the beginning of 2022 – I needn't worry. Everything just worked. After a long break due to COVID and a very unfortunate second place at the European Championships 2022, I stumbled, and I had to collect myself first. It took me a while to fully motivate myself again.
I reached out for motivational books. This may be something many other athletes have to deal with at one point in their career and I wanted to give hope, that this can be overcome. In my case it took some time but one of the phrases (although a bit over-used) really helped me persevere, which is the saying: "never, ever give up!"
What advice would you give someone just starting out on their own fitness journey?
Fun should come first and it's important to focus on a goal. I think it makes perfect sense to train in groups, especially at the beginning, it's very motivating! However, it's also important not to compare yourself with others too much and keep focus on your own individual progress. In order to get started with a new fitness routine or to stay motivated, it's a good idea to set small challenges. Collecting MEPs are perfect for this. Fitness training can become quite strenuous quickly and, as such, I would recommend beginners to go for a sports health check with the medical advisor first. Once this has been checked out, start slowly to get your body used to the new strain.
What's your favourite quote?
If your dreams don´t scare you, they aren´t big enough.
How can gyms and fitness professionals get more people moving in their community?
Through interesting course offerings (also with challenges) in which they strengthen their community. When community groups establish themselves and grow, the studios benefit massively... And they should be open to 'crazy' athletes who do insane training sessions and just let them go through their sessions without commenting… :D.
What's your favourite way to train?
That depends, but mainly I prefer really strenuous cardio workouts in HYROX style, which leaves you wondering how to physically get home after a 90-minute session. However, sometimes I also enjoy a bit of lifting or, of course, when the weather is good, cycling or running in the mornings.
What do you find most challenging?
The challenge in every training is to be better than the last session and, in each competition, to be better than the last one. Otherwise, the biggest challenge for me is to take a day out and generally getting everything else done. :D
Is there anything you'd do differently from your experience in fitness and physical activity?
Oh yes, I would start training like I do now much, much earlier.
Do you have a gym or facility you'd like to shout out, and what makes them so great?
All studios or groups I currently train or have trained are great from a community point of view. Elbgym always tolerates our, sometimes unusual, training workouts, which I really appreciate. Unfortunately, it's worth mentioning that it's tricky to find a gym in Munich that encompasses all the equipment that I currently need for my training. Therefore, I currently have to split between clubs to do my entire training.
How can people follow your journey or get in touch?
On Instagram (and Facebook) at vi_sports_. You can find out a lot about my training sessions, competitions and the like and I can also be easily reached there if you have any questions. Of course, I am also represented on LinkedIn, but it's more of a professional platform there than posts about my sporting events.
Is there anything else you'd like to add?
I am very grateful that I can appear as an athlete in Team Myzone and happy about the cooperation and your support. Don't start with too high expectations if you want to try something new, but definitely don't be too shy either, just try it out with a healthy self-confidence. You shouldn't be afraid that something won't work right away, that's part of it, or that you're too weak or too bad and then prefer not to do it. You've already lost with that attitude. Just do it and have fun with it :).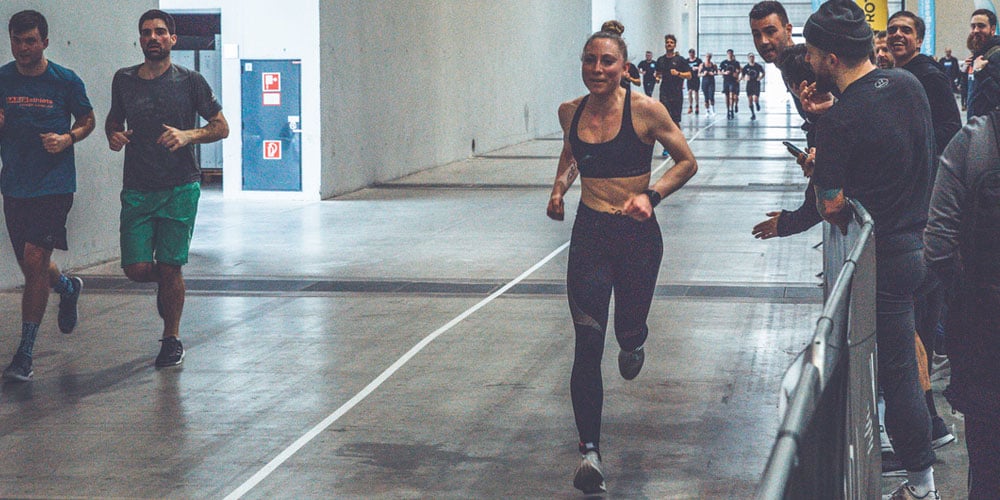 Viola Oberländer interview answers in German
Ich bin Viola Oberländer, 30 Jahre alt und lebe seit knapp 10 Jahren in München. Ich arbeite hauptberuflich im Sportmanagement und nebenbei bin ich als Coach tätig. Neben der Arbeit mache ich sehr gerne und recht viel Sport und bin hier mittlerweile recht breit aufgestellt. Ursprünglich war Turnen meine Sportart, vor ca 4 Jahren fing ich dann mit dem Laufen und Fitnesstraining (outdoor und indoor) an. Mit der Zeit kamen immer mehr Sportarten dazu und auch in den Wettkampfbereich bin ich nach sehr langer Pause wieder eingestiegen. Ende 2019 schnupperte ich das erste Mal Hyroxluft und möchte 2022 auch in die Hindernisläufe einsteigen.
- Wie hast du mit deiner Fitness Karriere angefangen?
Mit dem Fitnesstraining habe ich Mitte 2018 begonnen, zunächst nur mit Kleingeräten outdoor und dann irgendwann auch mal mit den klassischen Kardiogeräten wie Row, Ski und Bike. Das Training hat sich recht schnell weiterentwickelt und wurde immer umfangreicher.
- Auf welche deiner Erfolge bist du am meisten stolz?
Stolz bin ich darauf, dass ich zumindest für den aktuellen Zeitpunkt Sportarten für mich entdeckt habe, die mir sehr viel Spaß machen und die ich mit nur wenigen Einschränkungen machen kann. Ich kann meine Wochentage oftmals so gestalten, wie ich es möchte und habe an allem viel Spaß, das war nicht immer so, daher bin ich stolz darauf meistens einfach das zu machen, was ich will. Dennoch freuen mich sportliche Erfolge natürlich auch sehr, wobei Stolz hier das falsche Wort ist.
Ich freue mich, dass ich mit meiner Leidenschaft erfolgreich bin und mich immer weiter verbessern kann. Lange konnten mein Trainingspartner und ich den Weltrekord im Double im Hyrox halten, dann durfte ich nach nur einem Wettkampf im Single Pro beim Hyrox in allen weiteren großen Wettkämpfen in der Elite starten, ich war beim Elite 12 Rennen (der WM 2020), bei der WM 2021, bei der WM 2022 und bei der EM 2021 bisher dabei und konnte trotz diverser Hürden oben mitspielen. Das freut mich natürlich schon und spornt an, noch ein bisschen mehr zu machen.
- Welche Information oder Tipps haben dir am meisten geholfen?
Bis Anfang 2022 lief bei mir alles sehr sehr gut und ich musste mir keine Gedanken machen. Es lief einfach. Nach einem längere coronabedingten Ausfall und einem sehr unglücklichem zweiten Platz bei der EM 2022, kam ich ordentlich ins straucheln und musste mich erstmal sammeln. Das ist ein Prozess der unter Umständen recht lange dauert, was mir allerdings hilft ist tatsächlich der plumpe Satz: "never give up".
- Welche Tipps hast du für alle die erst seine:ihre Laufbahn starten?
Der Spaß sollte im Vordergrund stehen und man braucht ein Ziel. Ich denke gerade für den Anfang ist es absolut sinnvoll in Gruppen zu trainieren, das motiviert enorm. Wichtig ist allerdings auch, dass man sich nicht zu sehr mit anderen vergleicht, sondern vor allem ein Auge auf die eigenen individuellen Fortschritte hat. Um motiviert bei der Sache zu bleiben, bzw. überhaupt erstmal in die Fitnessroutine zu kommen, sind kleine Challenges immer sehr gut finde ich. Hier bietet sich z.B. das Sammeln von MEPs an. Da die Belastungen im Fitnesstraining recht schnell recht hoch werden können, würde ich Anfängern vorher immer mal einen Sportcheck beim Arzt empfehlen und den Körper dann etwas langsamer an die ungewohnten Belastungen gewöhnen.
- Wie können Fitnessstudios und Fitnessbetreiber in den kommenden Monaten mehr Menschen in ihrer Community bewegen?
Durch gute Kursangebote (gerne auch mit Challenges), bei denen sie eine Community aufbauen. Wenn sich feste Gruppen etablieren und wachsen, haben die Studios gewonnen... Und sie sollten offen für verrückte Sportler/innen sein, die komplett bekloppte Trainingseinheiten machen und diese einfach kommentarlos ihre Sessions durchziehen lassen :D.
- Wie trainierst du am liebsten?
Das ist immer etwas unterschiedlich, aber meistens sind mir die richtig anstrengenden Cardioeinheiten im "Hyroxstyle" bei denen man nach 90min nicht mehr weiß wie man den Weg vom Gym nach Hause schaffen soll, am liebsten. Manchmal mag ich aber auch ganz stupides Pumpen oder bei gutem Wetter natürlich Rennrad- oder Laufrunden morgens in der Früh.
- Was ist für Dich die größte Herausforderung?
Die Herausforderung in jedem Training besteht darin, besser zu sein als im letzten Training und bei jedem Wettkampf, besser als im letzten Wettkampf zu sein. Sonst sind für mich die größten Herausforderungen mal einen Restday zu machen und generell alles unter einen Hut zu bekommen.. :D
- Gibt es etwas, was Du anders machen würdest nach deinen bisherigen Erfahrungen in Fitness und körperlicher Aktivität?
Oh ja, ich würde viel viel früher anfangen so zu trainieren wie ich es jetzt mache.
- Hast du ein Fitnessstudio oder eine Gruppe, die du gerne hervorheben würdest, und was macht sie so großartig?
Alle Studios oder Gruppen in denen ich aktuell trainiere oder trainiert habe, sind von der Community her klasse und unsere manchmal etwas ausgefalleneren Trainingseinheiten werden z.B. im Elbgym immer geduldet, was ich wirklich klasse finde. Leider muss man aber sagen, dass es in München recht schwer ist ein Gym zu finden, was wirklich alle Geräte hat, die ich für mein Training benötige, daher muss ich immer etwas aufteilen, wo ich was trainieren kann.
- Wie können deine Fans mit dir in Kontakt treten und dich auf sozialen Medien folgen?
Auf Instagram (und Facebook) (vi_sports_) bekommt man recht viel von meinen Trainingseinheiten, Wettkämpfen und Co mit und dort bin ich bei Fragen auch gut erreichbar. Weiter bin ich natürlich auch auf LinkedIn vertreten, dort allerdings eher beruflich als mit meinen privaten sportlichen Erlebnissen.