On the longest day of the year, 12 members of the Manor gym community are taking on a 40-hour workout for charity, in a world record attempt where effort is everything.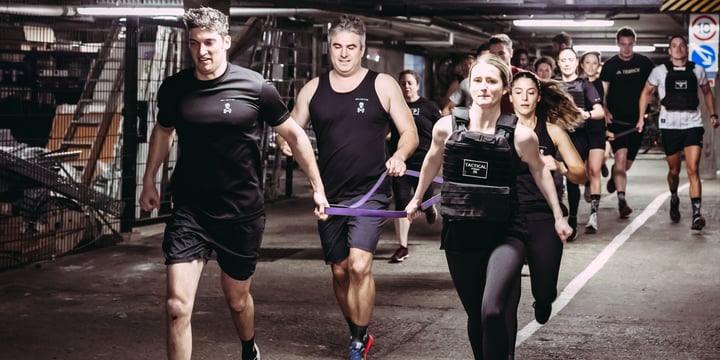 An ex-veteran himself, Gareth Ship is leading the charge for the world record workout, raising money and awareness for Rock2Recovery, a charity inspiring the fight against stress in the armed forces, veterans, 999 communities and their families.
Below we speak to Gareth to find out more about this incredible challenge and worthy cause.
What's the world record attempt all about?
This is an attempt for 12 normal people with regular jobs, to attempt the impossible over 40 hours – breaking a world record and raising money for a worthwhile cause.
We will be breaking the world record for longest workout, working out for 40 hours with a different workout every hour.
The current record stands at 24 hours. We accrue a five-minute break each hour but, besides this, there's no rest or sleep for the team! We start together and finish together.
What made you want to take on the challenge?
Over the past two years I think we've all been affected and been made more aware of the issues around mental health. As a veteran, I've seen first-hand how these issues can manifest themselves, affecting people directly and those around us.
By locking ourselves in a dark room for 40 hours, we hope to raise awareness for members of our society we owe a lot to – veterans, emergency services and their families – who are disproportionately affected by these issues.
At the end of the attempt the team we will be able to escape that dark gym floor, but unfortunately those affected by mental health issues can't just open a door and walk out.
I hope by achieving this record we can shine a light on these underfunded issues and really help support those in need.
How can people donate and support?
People can follow on Instagram @thelongestday2022 and donate at justgiving.com/crowdfunding/thelongestday. We will be live streaming our attempt so please join us on Instagram.
What will the workouts consist of over the 40 hours?
Workouts consist of four blocks: Grunt work, Gas tank, Yard work and Strength. These four different elements help us manage intensity; stress on different energy systems and parts of the body.
Grunt work – non conventional strongman type movements.

Gas tank – Steady state and interval cardio based training.

Yard work – a mixture of weights and cardio over different intervals.

Strength – weight based traditional training based on compound exercises.
Why did you choose Manor gym for the world record attempt?
Manor is both my gym and my family. They have had a number of campaigns to raise issues around mental health, supporting a number of charities in the sector. This attempt seemed like a great fit with their ethos "hard work and good vibes", plus the gym and the family are incredibly support of breaking this record.
How will your Myzone devices be motivating you and pushing you to keep going?
Working with Myzone will help us monitor how hard everyone is pushing at different stages, it will allow us to monitor fatigue setting in, estimate the calories everyone is burning (and ensuring we are all getting in enough to eat) and ensure everyone completes this attempt with their bodies intact!
People will be able to follow us and see exactly how hard everyone is pushing so there will be nowhere to hide.
Is there anything else you'd like to add?
Just to thank everyone for supporting, please come down to Manor on the day and cheer us on!