DUEL, a new motivational health and fitness platform, has teamed up with Myzone to challenge participants to hit their activity targets while unlocking funds for good causes. We talk to founder James Trevorrow about this unique exercise experience.
Rewarding effort by helping others
I have worked in the health and fitness sector for 20 years, from a PT, master trainer and educator to regional and national management roles. My career took me into product innovation and as head of product development for the Virgin Active group, I developed a number of boutique products, which are still popular today. This is where I first started working with Myzone and began to think about the DUEL concept – motivating people to put more effort into their workouts while directly contributing to the lives of others.
We inspire exercise and effort
DUEL is a motivational health and fitness platform, which hosts an online exercise challenge every month that rewards activity. Participants choose a package that suits their budget and the level of motivation they need and receive a Myzone belt within 48 hours (if they don't already have one). The challenges start on the first day of each month and last for three weeks, as it is widely understood that positive habits can be established after 21 days. The fourth week is used for active recovery, maintenance and base conditioning before the next challenge begins.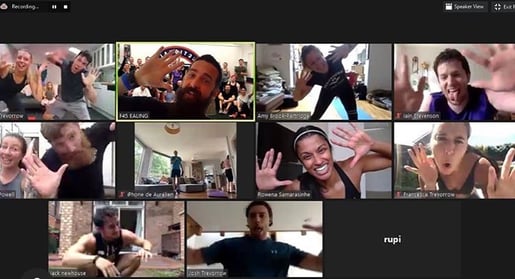 Challengers log their activity with Myzone throughout the challenge and track their progress on one of several leagues, that are tiered to suit their goal and level of commitment. When challengers hit a minimum target points, we release a large percentage of the entrance fee to that month's chosen charity partner. Essentially, the more the challengers commit, the more they can directly impact the lives of those that need us.
All exercise counts
For the first seven days everyone competes in the same league, which gives us time to determine their activity and commitment. For example, someone who does a lot of weight training is not going to earn as many MEPs as someone who rides a bike. They are then placed in the most suitable league according to their activity and the MEPs they are likely to earn. We have three leagues currently – 1,100-2,000 MEPs, 2,000-3,000 MEPs and 3,000+ MEPs – which means that all exercise (apart from swimming) counts in the challenge. As a fitness-based challenge, workouts need to be completed at an intensity of at least 60 per cent (the blue zone).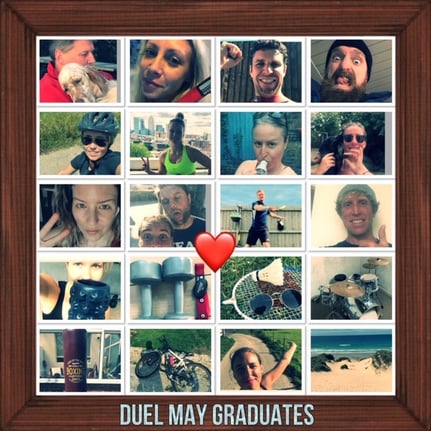 DUEL is inclusive
We have attracted a broad range of challengers so far, from youngsters to older people and the very active to those returning from injury. An amateur triathlete won the top league in last month's challenge and was closely followed by a company director with a passion for cycling.
Approximately 60 per cent of DUEL challengers don't have a membership to a health and fitness club, but a large proportion also do. DUEL is primarily about motivation, accountability and social support; it's not about content and equipment (content libraries are available). Some even work out with equipment like Peloton, others use fitness apps.
DUEL emotionally drives us to move so much more than we otherwise would because of the cause we are collectively fighting for.
People love the sense of community
The great thing about DUEL is that you get to know the challengers really well. All participants have access to our exclusive community group. They receive daily updates and challenge commentary on our Facebook page and use the Myzone app to comment and share banter with their fellow challengers.
I thought people would be primarily motivated by the prize money, but what they love most is the accountability and the daily motivation and support they receive from the community. We make a very big deal when someone hits their points target, commenting and sharing their success on our social channels – people really enjoy this element of DUEL.
Challengers can sit back, work hard and be quietly motivated by the leagues and charity updates, or they can shout about their achievements. It's very inclusive.
Our mantra is change for good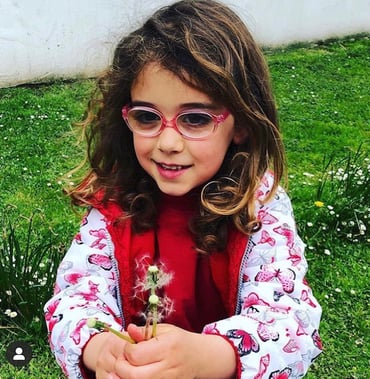 The DUEL concept means that the more people move, the more money they can unlock for charity. We use the three-week challenge period to raise awareness about charities that people may not have heard about. We raised £400 for the children's hospice Shooting Stars in June and are working with Vicky's Eyes (https://vickyseyes.org/) a charity supporting a little girl, Vicky, about to lose her sight and the research needed to try and save it. This will be our third challenge and approximately 50 people have signed up, which is great considering we've hardly done any marketing at all. The renewal and retention rates have been fantastic, and we've received some brilliant feedback.
If you'd like to explore how Myzone could help make an impact in your facility, we would love to hear from you. Click here to get in touch with a Myzone representative.