Nisus Fitness in County Kerry, Ireland has re-opened its doors after more than three months in lockdown. Owner Joe O Connor explains how MZ-Remote has helped the club grow its membership during the pandemic and transform into a true hybrid boutique training club.
Our community is our success
We are a training club for time poor 35-55 year olds who enjoy training in a group environment. Many, if not all our clients, would say they are not gym people and have come around to our 'training club' philosophy. Our clients want to come to train with like-minded people, have an effective workout while having fun, and leave within 45 minutes.
Our concept is built on the club environment and most importantly the community element. We encourage interaction between members and trainers in everything we do. We identify ourselves as a club that has group sessions and not a gym that does classes.
By extension of our community concept we have always had online or remote training as a way of reaching out to our clients while they were away from the club. This has steadily grown to include friends of members who have themselves become members of the Nisus Online Community Membership. Our success is our community and Myzone is the glue that keeps our community together.
Our membership is growing
Despite closing our doors on March 14th due to Covid-19, we have a growing membership base and Myzone is key to that. The technology is completely embedded into our culture with over 90 per cent of our members owning a Myzone.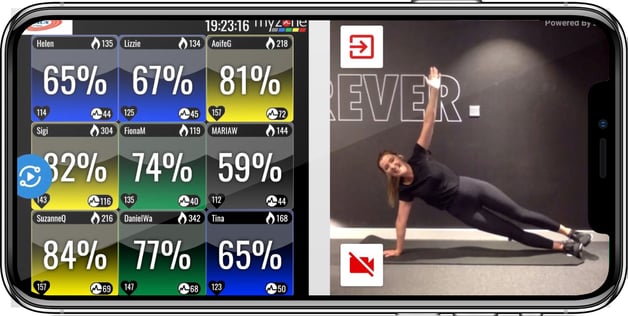 As trainers we love training and we assume our clients are like us. The majority aren't - they lack direction, accountability and motivation. Myzone helps our trainers to provide that direction, accountability, motivation and most importantly of all, reward effort. We obsess over fitness in our industry, but by just acknowledging effort we can remove so many barriers of comparison that our clients face. Comparison is the thief of joy! If we all aim for 80 per cent of our maximum heart rate while training, that's relative across the board regardless of your fitness level.
We retain members for longer
I found Myzone in 2014 and quickly realised it was my community glue. I invested in 50 belts and gave them to my first 50 members. It was a calculated risk that meant buying less equipment, but if I wanted something that would glue the Nisus community together, I had to compromise. From member 51 onwards they saw this amazing screen of people's effort and wanted to be part of the fun. Straight away they could become friends with people because they had a common denominator - that red belt and the notorious MEP.
We now have 21 Hall of Fame members who have achieved 1,300 MEPs every month for at least four years. This proves to me that the initial risk has paid off and we simply retain our members for much longer than the industry average. Myzone is a retention tool.
Myzone saved our business during lockdown
Our focus is direction, accountability and motivation. Myzone gives us the opportunity to do all three whether in the club or online. We are now truly a hybrid training club and this would not have been possible without Myzone. Myzone saved our business during lockdown.
Once I got wind of MZ-Remote, I wanted it instantly and we were one of the first to beta test the system. We have used Myzone as a remote training tool for five years now and while having retrospective heart rate data has always been great, having remote data live has been a game changer. While our competitors are fighting among each other for Instagram live video space we have a white label offering for our clients.
Within 12 hours of hearing about MZ-Remote we had 50 clients online doing a session. Now MZ-Remote runs across our 15 session online LIVE schedule each week with an average of 30 clients per session.
We are a true hybrid club thanks to MZ-Remote
We have always offered online training coaching in one way or another, but MZ-Remote has allowed us to truly become a hybrid training club.
The business now has an equal amount of club based and online based members. MZ-Remote has given us the opportunity to scale our business and from a small town in the west of Ireland we can realistically grow in a way that would not have been possible without MZ-Remote and its integration with Quoox.
Members tell us that MZ-Remote is like being in the club, which is music to my ears. I have every faith that my trainers offer a service that meets our clients' needs and now we can go online with this service and the client feels as if they are in the club with us. Winner!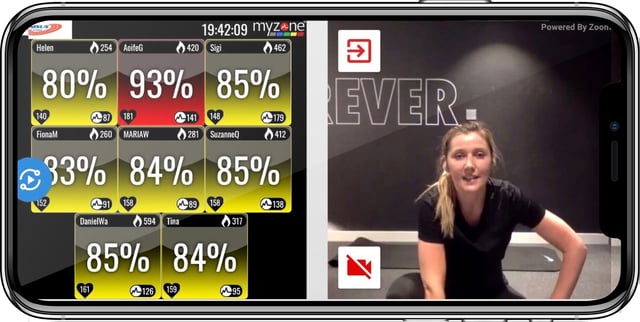 We have won back former members
This word got out and we have won back members who have moved. Although still engaged in the Nisus Community by giving likes and comments on the Myzone app, now they can actually train with their former training buddies online, doing their favourite session with their favourite coach.
Tralee is a relatively small town, and although very beautiful and a key tourist destination, we regularly have people move to the cities or abroad for work. Some of these members are back with Nisus now and although they are living in Limerick, Cork, Dublin, Galway and as far away as Montreal and Dubai they are back in the club albeit online but made possible by MZ-Remote.
MZ-Remote has kept my business open
The Hybrid club is the future and without MZ-Remote you risk becoming a club that provides endless free content online that makes no difference to your bottom line. A like or a share on Instagram has never paid the rent, but MZ-Remote has allowed me to continue revenue streams during Covid-19 that covered my operating expenses and effectively kept my business open.
MZ-Remote is a key tool to improve our membership experience and scale our business. It is here to stay and will be essential for the hybrid club experience.
If you would like to explore how MZ-Remote could improve your member's virtual workout experience, we would love to hear from you! Click Here to speak with a Myzone team member and get started.