We are excited to announce we will continue to support the physical activity community by offering free live gym classes through our MZ-Remote platform for all of our eligible facilities and Myzone users. The move provides ongoing access to wellbeing initiatives for the gyms and leisure centres around the world that are either still closed due to COVID, or have restrictions on offering their group exercise classes.
UK government officials have announced ongoing restrictions for physical activity and gyms around the country. This leaves many without access to their preference of physical activity and many gyms or leisure facilities unable to provide for their communities. We have stepped in to provide classes every single day, with some starting at 6am in the morning, right up until 8pm at night to serve our community and keep the world moving.
Digital fitness done right.
Once a "nice to have", a strong digital product with a genuine studio buzz is now an essential part of any gym's offering. Throughout lockdown, we have used our MZ-Remote platform to host hundreds of classes for anyone to join, from cardio club workouts to strength training, yoga, HIIT classes and boxing sessions.
In a recent study of the fitness industry's transformation to online classes, by research firm Proinsight, our MZ-Remote feature was selected as the best pivot in business since the lockdown, gaining international acclaim.
Using the Myzone app, participants join a class and get visual and audio feedback in real time on effort and form through targeted heart rate training. Now you're invited to experience the next generation of group exercise – an ideal way to connect with more people even when restrictions are lifted.
MZ-Remote will continue to grow long past the pandemic and be part of the crucial digital pillar that fitness operators will need in order to be the recognised health delivery partners in their communities. Giving gyms access to their own MZ-Remote sessions means you could be taking Peloton-like classes with your favourite instructors from your local gym.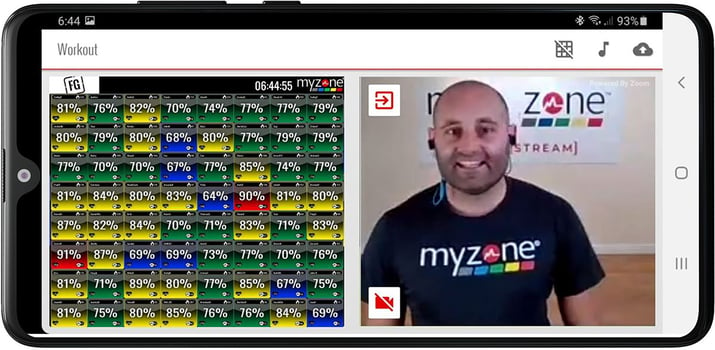 We're stronger together.
Group exercise is a pillar of community within the fitness and physical activity sector. Through a shared experience, more people are inspired to move and create a positive effect on body and mind over a longer period of time. Even aside from concerns within the current climate, this effort and motivation is key to combating many long-term conditions such as obesity and heart disease that have such a devastating effect on the health of our nation. But right now greater opportunity to exercise is all the more important to improve immunity and help fight COVID.
"If your club has been forced to close, or you do not feel comfortable attending the physical location, then I would definitely recommend asking your facility to add all the sessions to their Myzone app," explains master trainer and MZ-Remote instructor, Billy Burchett.
"This will be a great addition to a club that has group exercise class restrictions, whether gym owners, leisure facility staff and trainers wish to access our classes or supplement them with their own offering. MZ-Remote will still be a great addition to other clubs in lower tiers to offer to their members, too, as all of the sessions are free of charge."
For more information visit myzone.org/mz-remote or email remote@myzone.org