How to Design Myzone Challenges for a Big Impact
5 min read
Friday, 25 October 2019
One of the most unique and engaging features of Myzone is the ability to design Myzone challenges. Ask any previous challenge participant with a mildly competitive side, and they'll probably light up when talking about their experience.
So how can we design Myzone challenges that will have a big impact? In this post, we'll share some best practices. Before we do, it's important to note that there are two ways to create challenges:
Via your Myzone account as a Myzone user. All Myzone users can create challenges online or on the Myzone app and invite their social connections to play.
Via your Myzone account as a Myzone club owner. Challenges can include all members of a club, certain groups from a club, or teams of Myzone users. Clubs can even compete against each other in challenges.
**While this post will primarily focus on creating challenges for clubs (#2 listed above), many of the principles will apply if you are a Myzone user creating a challenge for your social connections.
Here are some key items to be thinking about as you design your challenges.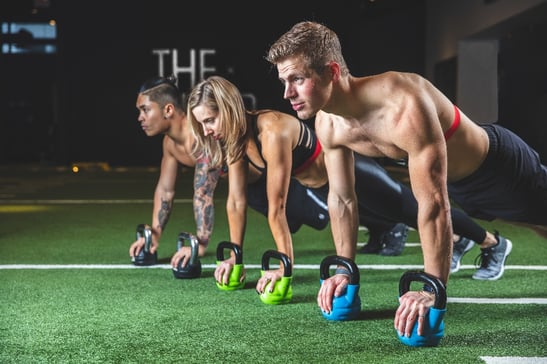 The "Why" of Your Challenge
"Just because" challenges are awesome, but challenges built on a specific goal are even better. We recommend asking yourself some of these questions when developing your challenge:
Is the goal of my challenge to increase membership or program sales? If so, are there particular seasons when membership is low or high? For example, if you see a dip in membership around the holidays, perhaps a challenge designed to finish the year strong will be effective. Alternately, perhaps a New Year challenge when you tend to see increased membership sales will be a great way to get new members engaged.
Is the goal of my challenge to drive belt sales? This is certainly a benefit of running a challenge at your club. If so, will you offer some sort of incentive (like a discount on belts) for members who participate? Furthermore, will you offer some additional education and training around how to use the Myzone MZ-3 belt (i.e. information sessions about how to download the app, recommendations for training, etc.)? Offering educational sessions might be a great opportunity for trainers to pursue additional personal training clients.
Is the goal of my challenge to highlight a particular program? Just added a new HIIT class to the group fitness schedule? Then how about a challenge that focuses on the GREEN, YELLOW, and RED zones? Looking to increase participation in a small-group training program? Perhaps running a challenge for participants and putting a leaderboard at your service desk will help to advertise the program.
"Who" Gets to Play
The "who" of your challenge goes hand-in-hand with the "why." We encourage you to think about the community of your club and how you can leverage staff and member relationships to create an exciting challenge.
All-member challenges. A challenge that includes all members is a great way to make a splash and increase member engagement throughout your club.
All-staff challenges. A challenge amongst your staff is an effective way to bring everyone up to speed on using Myzone and to build camaraderie.
Within-group challenges. Do you have certain groups of members who need some extra motivation? How about a challenge amongst all personal training clients, or amongst all clients of one trainer?
Group versus group challenges. We've found that members love competing as a team against another team. Do you have loyal morning or evening folks? How about a morning versus evening member challenge? Do you run multiple cohorts of a small-group training program? How about a cohort versus cohort challenge?
Reward Consistency
Myzone rewards the effort we put into an effective training program and a lifestyle focused on wellness. In order to incentivize Myzone users to develop sustainable and healthy exercise habits, it is important that challenges reward consistency, rather than overtraining. For this reason, we encourage you to consider some of the following options when developing challenges:
Place an effort cap for every day, week, or month of the challenge. Reward whoever earns the most of something, and you may find some members overtraining and others growing frustrated that they are unable to exercise as hard or often as others. Place a maximum number of MEPs to be earned within a certain duration of the challenge, and members will have a realistic healthy goal. For example, every member who achieves 450 MEPs in a week moves onto the next phase of the challenge.
Make it a team effort. Rather than each individual member achieving a goal, make it a partner or group effort. This way, members who can dedicate more effort to the challenge and members who cannot are all able to share the experience.
Include Meaningful Checkpoints for Engagement
Your members' engagement level throughout the challenge will depend on the length of the challenge and how you choose to market it. Keep members excited by offering regular checkpoints for progress. For example..
Send a congratulatory email every week of the challenge detailing who is in the lead.
Create an eye-catching leaderboard at your service desk. This is another great way to advertise the challenge and your programs.
Offer a Memorable Reward
How will you reward your members' hard work? You know your members and are the best judge of what types of reward will excite them, but we encourage you to consider many options for challenge prizes.
Discounted or complimentary membership or services. We've found this is a simple way to incentivize members to participate in challenges. Also, it can introduce them to services they may not otherwise try.
An unforgettable experience. What if the challenge winner(s) earn a gift card to a beloved local restaurant or free entry to a popular event in your community? Prizes like this can create a positive memory for your members that is inextricably linked to your club. This may offer a way for you to generate some community partnerships as well.
A cause that members can get behind. Be more than just a "gym" by centering your challenge around a good cause. Find a way to link your challenge to a local cause or charity that members will want to support. You can offer special events to challenge participants, or even use a donation as the challenge prize. For example, charge members $5 to participate in the challenge. The winner or winning team gets to pick the charity that all proceeds will be donated toward.


We hope this post gave you some ideas for your next Myzone challenge!! We can't wait to see what you come up with. Remember to use the hashtags #effortrewarded and #myzonemoves when you post your challenge pics to social media! For more tips on how to use the MYZONE® heart rate monitor and app, follow us on Instagram and Twitter @Myzonemoves.
Are you ready to upgrade your fitness offering? Unleash the full power of Myzone within your facility and motivate your members to achieve more. Click here to get in touch.