Testing the strength, stamina and endurance of some of the best athletes around the world, this event is an incredible example of physical activity and mental fitness combined.
Myzone has proudly partnered with HYROX for the World Championships of Fitness Elite 12 – a competition to challenge the fittest and fastest, featuring World Record holder Sarah Kholti, CrossFit Games Champion Sam Briggs, HYROX World Champion Lukas Storath and World Record holder Hunter McIntyre.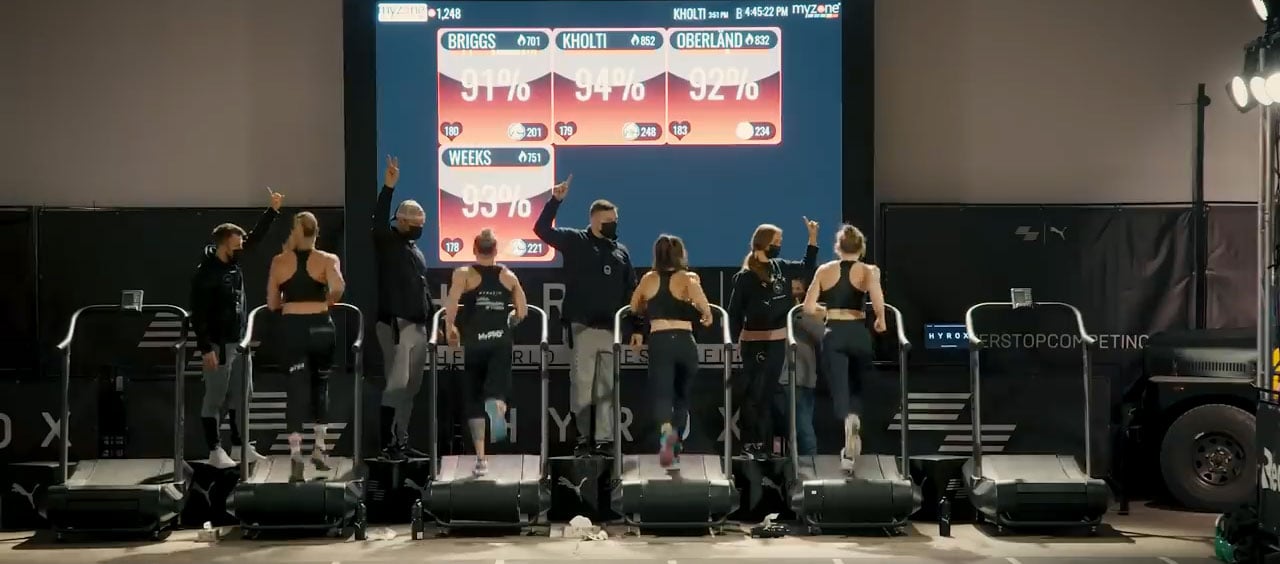 Taking place in Hamberg, Germany, the birthplace of HYROX, the workout included sled pushes and pulls, burpees and bodyweight exercises, kettlebell carries, the SkiErg, rowing, and sandbag lunges, all alternating with 1000m of running.
Find out what it takes to become a World Champion.
Watch the workout video.
What's in the workout?
1000m Run
1000m SkiErg
1000m Run
50m Sled push (Men 175kg, Women 125kg)
1000m Run
50m Sled pull (Men 125kg, Women 75kg)
1000m Run
80m Burpee broad jumps
1000m Run
1000m Row
1000m Run
200m Kettlebell farmer's carry (Men 32kg, Women 24kg)
1000m Run
11m Sandbag lunges (Men 30kg, Women 20kg)
1000m Run
100 Wall balls (Men 9kg, Women 6kg)
Finish



The HYROX athletes.
Rebecca Naether (Hamburg, Germany)
Linda Meier (Düsseldorf, Germany)
Lauren Weeks (Las Vegas, USA)
Viola Oberländer (Munich, Germany)
Sam Briggs (Leeds, UK)
Sarah Kholti (Stuttgart, Germany)
Lukas Storath (Würzburg, Germany)
Markus Frison (Saarbrücken, Germany)
Tobias Lautwein (Olpe, Germany)
Hunter McIntyre (Malibu, USA)
Tim Schröder (Carlsfeld, Germany)
Adam Klink (Chesapeake, USA)
For more information on the World Championships of Fitness or any other HYROX competition visit Hyrox.com