Happy New Year, Myzone Community! Ready for some heart-pumping workouts as you train with Myzone this year? As we look forward to 2018, we want to share the top three ways to get the most out of your Myzone belt.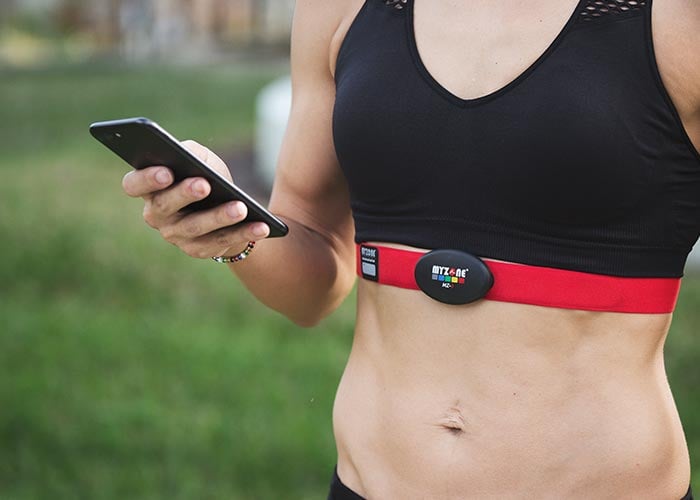 1. Use Myzone to hold yourself accountable
As you set out to accomplish your 2018 goals, use your Myzone belt to keep you on track with the plan you (or your trainer) put together. This means:
During your workout: Use the live feedback provided by Myzone to determine if you're hitting the zones, earning MEPs, and burning the calories you set out for. Not quite getting there? Amp up your intensity, while monitoring your workout data, to ensure you're accomplishing your workout goals safely and effectively.
After your workout: Check out your workout summary on the Myzone app to view stats like MEPs earned, as well as minute-by-minute heart rate data. Was this workout what you wanted it to be? Name your workout and rate it so you remember what you did and how much you enjoyed it. While you're at it, scroll through your Home feed to provide some likes and comments to your Social Connections.
Before your next workout: Open your Calendar on the Myzone app and note your workout frequency and average intensity. Are you hitting the World Health Organization's recommended 150 minutes per week of moderate-intensity cardio (BLUE/GREEN Zones, 30 minutes, 5 days per week) or 75 minutes per week of vigorous intensity cardio (GREEN/YELLOW/RED Zones, 25 minutes, 3 days per week)? Are you hitting the goals you (and your trainer) set for your workout frequency, duration, and intensity? If so, keep going! If not, what do you need to change?

2. Gamify your workouts
Adding game-like elements to your workouts is a highly effective way to stay motivated and consistent with your workouts! Use MEPs and get creative.
Set short-term and long-term MEP goals for yourself. Beginner exercisers should aim for 300 MEPs/week or 1300 MEPs/month. More experienced exercisers should aim even higher. Based on the days per week you exercise, you can set very specific goals around how many MEPs you will earn per workout. For example, a beginner could aim to earn at least 60 MEPs/workout, 5 times per week, by exercising in the BLUE and GREEN zones. This would get them to 300 MEPs.
Create goals within your workouts that make them feel like a game. For example, aim to reach certain zones during certain exercises or drills (such as in this Ladder Game), or to earn a specific amount of MEPs before moving on to the next part of your workout.
We've offered many games in past Fitness Friday broadcasts—give them a try!
Partner Recovery Games
Heart Rate Recovery Game
The Plane Game
Kettlebell Pyramid Workout

3. Engage with the Myzone community
You don't have to achieve your health and fitness goals alone. When you train with Myzone, you join a community of exercisers striving to be their best, just like you. Find and support others in the community with these simple tips:
Become social connections. Anyone with a Myzone account can become your social connection. Simply search for their name via the Myzone app and request them. Once you're connected, you can chat via the app, see and like each other's workouts, and participate in challenges together.
Create challenges with your social connections. Again, it's as easy as a few clicks on the Myzone app. Create your challenge parameters, invite friends, and watch each other progress along the way!
Workout with other Myzone users. Other exercisers who own a Myzone belt can instantly become your gym buddy! Why not invite them to workout or even play one of the games we listed above? Having a buddy or a small group to work out with can offer a sense of camaraderie and boost our motivation.
Keep moving forward!
We want to know how you're getting the most out of your Myzone belt in 2018! Be sure to share your workout photos and videos with us on social media using the hashtags #myzonemoves and #effortrewarded so we can cheer you on!
For more tips on how to use the Myzone® heart rate monitor and App, follow us during Fitness Fridays on Facebook Live (subscribe on Myzone's Facebook Page) – 8 am PT, 11 am ET, and check out our Myzone® Moves Podcast on iTunes or Google Play.