Following hot on the footsteps of National Fitness Day, Myzone is hosting another huge Cardio Club class to celebrate #BEACTIVE day and the European Week of Sport. Join us at 7.30pm CET on Thursday 23rd September.
Even if you don't own a heart rate monitor, you can easily download the free Myzone app and join the class with master trainer Billy Burchett.

Discover the Cardio Club community experience.
There's something special about Myzone's Cardio Club classes. People come together for a shared experience of physical activity like no other. You can run outside, perform bodyweight movements in your living room, or cycle in the gym – all exercise counts.
If you're a gym owner, PT or fitness facility manager, livestream Cardio Club on to a screen (or Chromecast to your TV if you're at home) and share the workout to get as many people involved as possible. Not only does it get more people moving, but the MZ-Remote class shows every participant how to move through the heart rate zones with expert instruction from the master trainer. We all push for the same goals and achieve them together, no matter what our perceptions of ability and fitness.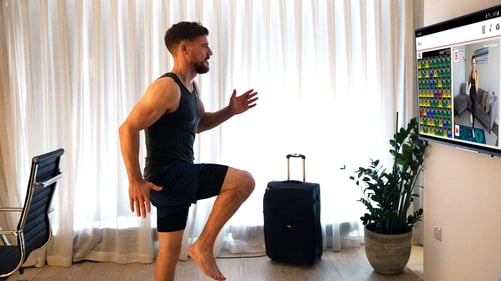 Be inspired by Europe moving as one.
"We're excited to celebrate europeactive's #BEACTIVE day because it's never been more important to embrace the mental, physical and social benefits of physical activity," explains David Stalker, CEO of Myzone EMEA and president of europeactive.
"The best way to do this is through an exciting and engaging cardio workout that everyone can take part in. Club owners as well as individuals can unite in fitness and join this huge community training session, no matter where they're based and how they want to work out."

How to join the europeactive BEACTIVE class.
The live Cardio Club session will take place on Thursday 23rd September at 7.30pm CET.
To take part, Myzone movers can book the Cardio Club class in the usual way via the Myzone app. People without a Myzone belt simply need to download the Myzone app, tap 'Register Your Belt' and follow the prompts entering 0 [zero] for the belt ID.
Then open up the Myzone home page, hit the 'Book A Class' icon and select Cardio Club from the timetable. Five minutes before the class is due to start you will be able to join. Head into the 'My Classes' page and tap the link to be taken straight to the class. To find out more visit the support page on how to join.
For more information on the Myzone app, visit the app homepage. If you haven't already, buy a heart rate monitor and get moving with the Myzone community.