Looking for a great example of how to use member-centricity and tech to drive innovation and improve the customer experience? Take a read, below, of our chat with Devan Gonzalez, co-founder of Strive 11 Fitness LLC in Los Angeles, a disrupter in the health and fitness space.

With a long-held passion for fitness, Devan was a martial arts instructor by the age of just 13. He worked for a commercial fitness chain during his college years and went on to launch his own PT training business Strive Fit Inc.
Like true disrupters, Devan and his business partner Nick believed there was a better way of delivering the fitness studio experience. In 2021, they created Strive 11 Fitness, a studio that breaks the mould by delivering live non-stop HIIT bootcamp classes all day, every day.
The business model overcomes one of the most common barriers people face when trying to stick to an exercise regime – convenience. With sessions running continuously and no start or finish times, members really can do a class whenever it suits them, fitting exercise around their other commitments.
"Our mission when building this company was to go against the stream in every aspect. Every HIIT bootcamp class we know has a start time. We don't. If you were to walk into the club right now, a trainer would get you to warm up and then put you on one of the exercise stations so you can jump right into the class cycle. We have people starting and finishing classes every two minutes. I don't know of other gym doing what we are doing here," explains Devan.
Working around members' schedules

Strive 11 Fitness has been able to grow its membership by putting customers at the heart of its business. It meets their needs by providing convenient and flexible workouts, supported by Myzone's heart rate tracking technology.
"People usually have to work around the gym's schedule, here we work around their schedule," says Devan.
What that means is that not only can members choose when to join a class, they can decide how long that session lasts, giving them the ultimate flexibility.
The studio has 11 workout stations. Members can complete all stations in 30 minutes or two and do circuits of the equipment for a longer workout, which extends to 75 minutes with the warm-up and ab stations.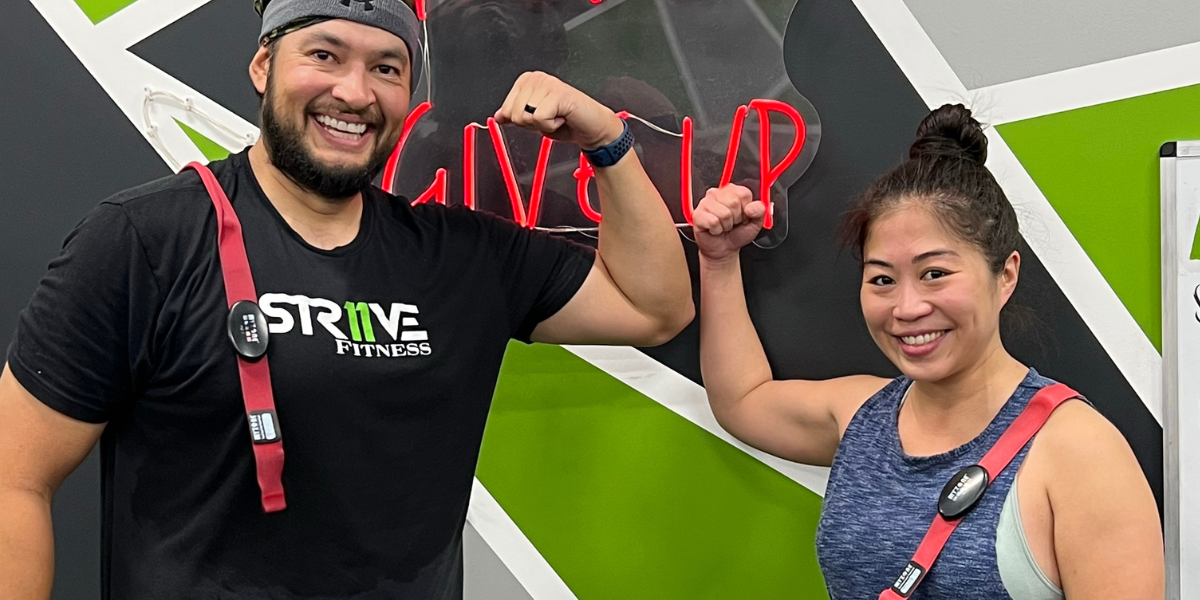 Creating a unique community

Strive 11 Fitness is utilising digital technology and the latest fitness trends to rethink the tried and tested studio model. It has embedded Myzone into its culture making members part of a unique community that they value. There's no need for them to deliver the hard sell.
As soon as someone joins the class wearing their Myzone, their name pops up on the screen in the studio along with their heart rate reading. There are two trainers on the club floor at all times and in addition to checking and correcting techniques, they actively encourage members based on their Myzone heart rate data.
"The trainers call out to people by name to motivate them during the workout, so if someone doesn't have Myzone they really feel they are missing out."
Driving customers visits

Strive 11 Fitness switched from its previous provider FitMetrix to Myzone to give members the ability to track their activity both in and out of the gym.
"FitMetrix didn't have all the features and the compatibility we wanted or needed, plus it was more expensive. Myzone allows our members to use their heart rate belt both in the gym and outside the facility which fulfills the needs of some of our member challenges while saving us money."
These challenges include a bi-monthly competition that awards prizes to the three members with the highest MEP count. The club also runs an ongoing challenge throughout the year with the prize – one year's free membership – going to the member who has not only earned the highest number of MEPS over the 12 months but has also recorded the most check-ins to the club.
It's a clever way to motivate members to be more active and drive customer visits - which you can learn more about here. And it's paying off.
"Myzone has been super helpful in increasing our membership because it brings out that competitive nature in people and so members are seeing more results. Our retention has definitely increased because of the member engagement and the culture that Myzone has helped us to build."
Devan and Nick are in the process of launching a franchise company Strive 11 International Inc. to expand the concept so more people can work out on their terms. Check them out on social here.