The social features built into the MYZONE experience may be the most important aspect of the effort tracking system for faithful users. Why? Because we all have a tendency to work harder when others are watching, it's just ingrained into who we are. The beauty of the MYZONE system is that it plays the role of real-time fitness trainer and gives our friends, family, trainers, and others the ability to follow our progress, challenge us, tease us, and encourage as they're able to see if we're putting in real effort or just barely breaking a sweat each time we workout.
The MYZONE App makes it easy to add Social Connections. Social features allow friends and family in the gym and around the world access to see how you're progressing throughout your fitness journey. One of our latest app updates included the addition of a Group Chat feature. Chat gives you the ability to group friends, family and workout buddies into clusters where you can keep in touch with them via messages about their workouts and goals. Have both a Zumba and Yoga class that you'd like to stay in touch with? In the app, you're able to set them up as separate groups to avoid confusion and stay in communication.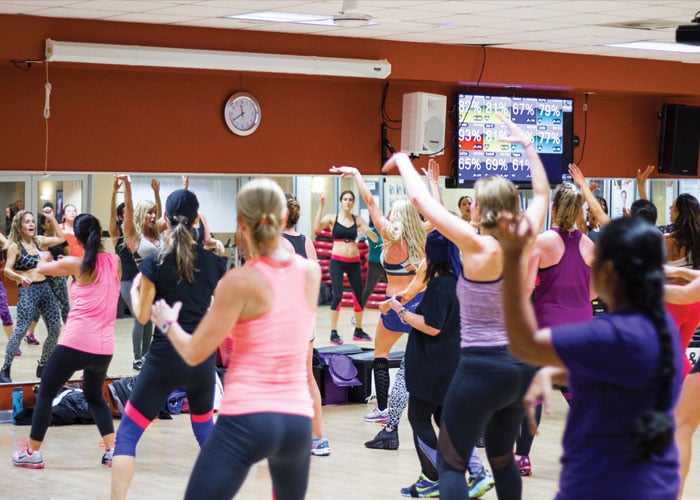 To further connect and share with your fellow MYZONE friends, you can use the in-app photo and challenge features. Each time you exercise, you can attach a unique photo to your workout for your connections to see. Show off your gains, your MEP score, take a picture with your gym squad or snap a shot of your latest box jump height so your connections can see the progress you're making. Want to connect on a more competitive level? Set up a group challenge to spark some friendly competition between your family and friends. Have a wedding or high school reunion coming up? Why not set a competition between all the attendees to see who can earn the most MEPS, drop the most weight, or burn the most calories before the big day? Remember that as you compete, you level up and will earn brag-worthy badges that are perfect for sharing to social media. Challenges are a great way to encourage friends to put in the effort required to get the results they want.
How have the social features within the MYZONE App changed the way you workout? Have you entered into competitions? Have you set up any of your own to make sure you reach your personal goals? (Not sure how to set a good fitness goal? Check this article out). Do you push yourself more knowing that your friends and family are able to see how many kCals you're burning and how many MEPS you're earning? Our in-app fitness trainer can help! We'd love it if you shared your thoughts on Social Connection and Challenges with us on social media using #myzonemoves and #effortrewarded.