Motivation is the driver for behavior. It is proven that attendance is the biggest predictor for members likelihood of dropping out and repeated exercise is essential to achieve results. Ensuring members feel motivated to show up, work out and do it again and again is the key to success for them and for your club….but isn't that easy without help.
There are endless ways that Myzone can help drive motivation, the only limit is your imagination, but here are our top 5.
Accountability
Receiving real time, accurate feedback on the effort you are putting into your workout not only provides education and motivation but also allows effective coaching by trainers. The ability to immediately see feedback on your training effort creates a feeling of achievement, but also the driver to either keep going for that final tough few seconds or to pull back because you've done enough.
A recent independent study completed by the University of Leeds showed that effort visibility increased happiness and motivation, especially in self-identified beginners.
Create a strong community
Human beings need to feel part of something bigger than themselves. It is what drives us, gives us a sense of belonging and a valuable support system.
This is never more important than when we are trying to change behaviors or drive ourselves to achieve something challenging, such as exercise. Through social networks in the Myzone app, users can connect with other Myzone users, support and motivate each other through likes, comments and chat groups or even take part in team challenges.
If the only person who knows you has made the effort to exercise is you, it is very easy to lose motivation and consistency. With workout profiles visible to all your connections and the ability to share pictures of your workout this decision becomes a very different one, we want the MEPs, the likes and the supportive comments but we need to show up to get them!
Gamification through status
For many people exercise is hard, but even for those who enjoy it we all want to receive recognition of our efforts and achievements, particularly when it pushed us out of our comfort zone.
Myzone is the only wearable device that links to the World health Organisation (WHO) guidelines for minimal levels of activity. Not only does this educate people on how much activity they should be taking part in, Myzone rewards them for achieving it.
You don't need to top the number of MEPs leader board to be rewarded. Anyone achieving the WHO minimal activity levels in their first month will be awarded an Iron status. Someone new to exercise may not see significant changes to weight, % body fat or other calculations we use to measure success, but they can easily achieve an Iron status. We recommend you shout this from the rooftops!
Once they are "Made of Iron" they re motivated to "level up", just by repeating at least this level of activity for 3 months consecutively, they now become Bronze, at 6 months Silver and on until they finally become a Myzone Hall of Fame legend!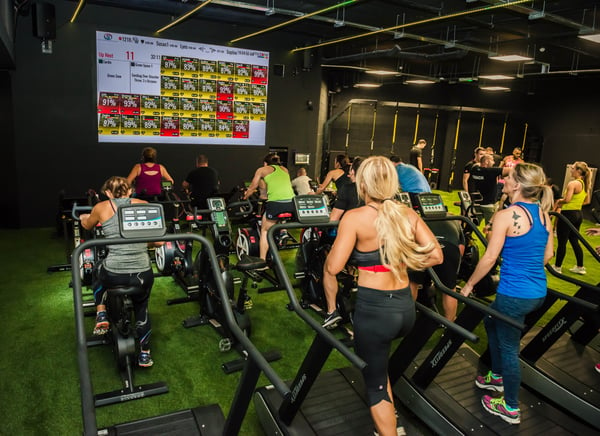 The extra motivation is that if they miss a month, they lose this achievement and drop down to the start of that level or down to the previous. So once more, that "do I go to the gym today….?" decision becomes much more likely to be a positive one.
Why not celebrate on your social channels or in-club noticeboard, create co-branded t-shirts or water bottles, hand out medals or even give them the costs of their belt back for Gold status. There are infinite ways you can show your members you noticed their efforts and you're proud of them!
Level the Playing Field
Group Exercise has repeatedly been proven to improve motivation and retention, however joining a class for the first time can be incredibly intimidating. On top of that, feeling like you must keep up with the fittest, strongest and most experienced people in the group can reinforce the idea that "this isn't for me".
Whether it's Indoor Cycling "everyone turn it up 2 turns" or Plyometric Box Jumps in a HIIT class it is simply a measure of I can or I can't, often leading to a feeling of failure. By using effort as the measure and changing the 2 turns up to "everyone let's drive up into the Yellow zone" everyone can feel a sense of achievement and inclusivity, making it an experience they want to, and know they can, repeat.
Making people feel good about exercise.
The underlying ethos of Myzone has always been, to make people feel good before, during and after exercise.
All motivation is good but if we can move our members and clients from extrinsic motivation (exercising for an end goal or result) to intrinsic motivation (exercising purely for the love of it and because its who they are) every workout becomes something they want o do, not have to do.
Using MEPs, challenges and Status achievements Myzone users want to stay active, having real time feedback during workouts means they get recognition throughout, and receiving encouragement through likes, comments and messages on their profile keeps the endorphins and happy hormones high long after the workout is finished.