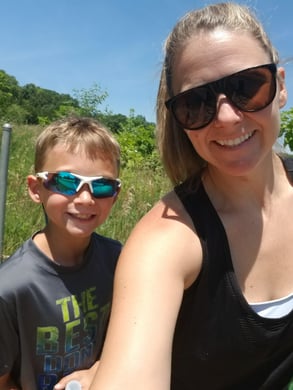 While already in the middle of a Myzone competition experience for Halloween with her Snap Fitness community, Allissa Rousselo got all treat and no trick by using her heart rate monitor in October.
Combining workouts in the gym and at home when required due to lockdowns, Allissa gained enough MEPs for the month and won the October Global MEPs Challenge. Here she explains why she loves embracing physical activity, how exercise has changed her life, and what Myzone has done to help her enjoy movement more.
Effort for enjoyable accountability.
"My husband revamped our basement for me and we bought some dumbbells to go along with our 10-year-old treadmill. I've been hitting our makeshift gym since March to stay sane. When I start feeling boxed in, I take it to the gym and leave it on the floor.
"My Myzone belt has helped me push harder in my workouts. When I hop up into the yellow and red, I know I am meeting my potential. Being able to look at my calendar view shows me how hard I've worked over the week, month, year and in total. I love the accountability!
Physical and mental wellbeing.
"To maintain physical and mental health I have to have a physically challenging outlet. Exercise allows me to fill my cup so I can have energy for my family, house work, regular work and, of course, yard work.
"I prefer running, but unfortunately my body has not been too keen on that starting this spring. So, I do a lot of squat jumps and fast walking to get my heart rate up and then incorporate every type of lunge, squat and dumbbell exercise I can think of to keep my workouts challenging and fun.
How to engage and excite in the gym.
A member of Snap Fitness Shawnee in the US, Allissa had already been pushing herself for a different goal using Myzone with in the community with other gym-goers over the Halloween season.
"This was the first challenge I had done with my gym (although it's mostly been at-home workouts) and I was trying so hard to get in the top 10 for our 'October Zombie SNAPocolypse challenge.' I didn't succeed there but I really pushed myself. I was pumped to know that all my hard work paid off in an even bigger way.
"I've chosen my husband to share my gym membership prize because his health is as important as my own. We have two boys and I want them to see us work together to stay healthy for them, and to give them motivation to be healthy with their families in the future.
"My hope is that I will continue to get stronger and healthier and leave 2021 in the best shape of my life!
What is the Global MEPs challenge about?
Allissa Rousselo is a winner of the October 2020 Global MEPs Challenge. Open to all Myzone heart rate monitor users, the challenge could be entered by earning 1300 MEPs throughout the month, with a total prize value of $25,000.
If you want to get involved in the next challenge, see your Myzone app for details or pick the best heart rate monitor for you if you haven't already.
Work Out To Help Out. In these times of uncertainty, exercise makes us feel happy, it reduces anxiety and it keeps us connected. We're stronger together.