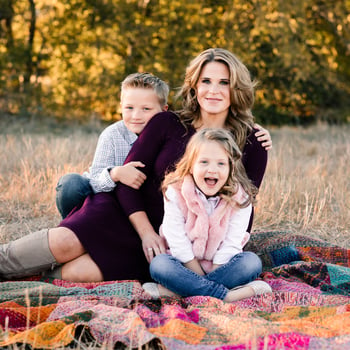 When it comes to fitness and movement, Kelly Tabor has a routine set that's been built on necessity but will last a lifetime.
Kelly is a member of Cowboys Fit in the US, the gym based on the legacy of NFL icons, the Dallas Cowboys. Below are a few reasons why she's grateful for the opportunity to make physical activity a part of her every day life.
Movement to be thankful for.
"I am grateful every morning I have been given another day to live. I am thankful I am able to move my body, build strength and endurance and find my inner self. I use my time to work out as a time to bring together my mind and body not only for myself but for everyone who was not given the opportunity that day.
"I wish I could say that physical activity is my way to manage stress to keep with a consistent lifestyle but, honestly, it is also a way to ensure my jeans still fit. Working out and eating healthy is a lifestyle choice."
Family fitness routine.
"Just over 10 years ago, I had my son. As a newborn, he was a terrible sleeper and eater. He would wake up every two or three hours. My husband and I would take turns getting him throughout the night. Since my husband had to work by 7am, I started getting up with my son between 3-4am to feed him then get him back to sleep for my husband. I'd throw on a pair of leggings and head to the gym by 5am.
"He was six weeks old at the time. I never realized how crazy this was until I started talking to other new moms. I thought having a newborn up every few hours was normal. By the time I realized it, I had a steady routine established. 10 years later, I still wake up at zero-dark-hundred to get my workout in before the kids go to school and hubby goes to work."
Make time for your own wellbeing.
"Selfishly, my early morning workouts are my time. I do not need to be a wife or mother. I do not need to go to the grocery store or PTA meetings. It is my time for self care.
"When COVID hit and all of the gyms shut down, I was lucky enough to be a part of an amazing gym that offered online at-home classes. I adore HIIT classes. I love the energy a good instructor brings to the table. I quickly ordered a bench from Amazon and dug out my mat and a set of weights that were collecting dust. It was a very different experience for me.
"I set up my equipment under the Texas stars in my backyard and never thought to quit. I'm sure my neighbours got a good laugh at me at 5am watching me sweat! We literally had no place to go all day but I was determined."
How Myzone helps in and out of the gym.
"I'm addicted. The Myzone device and app is so powerful once you understand your own personal zones. I have learned to embrace all of the zones with different workouts.
"I am so stinking excited that I won the MEPs Challenge! I always hope to inspire others or even just spread an encouraging word. I am happy to share my passion with others.
"I will be continuing my journey to better myself and push limits. I have more of a story to tell. We are all as powerful as we want to be. It's just about taking it one day at a time. I am excited to see progress in mind, body and spirit. Not everyday will be a personal best but I promise I will show up, try hard and encourage others to do the same."
What is the Global MEPs Challenge about?
Kelly Tabor is a winner of the October 2020 Global MEPs Challenge. Open to all Myzone heart rate monitor users, the challenge could be entered by earning 1300 MEPs throughout the month, with a total prize value of $25,000.
If you want to get involved in the next challenge, see your Myzone app for details or pick the best heart rate monitor for you if you haven't already.
Work Out To Help Out. In these times of uncertainty, exercise makes us feel happy, it reduces anxiety and it keeps us connected. We're stronger together.