One of the few women in the sport of motor racing has incorporated MYZONE's heart rate tracking system into her fitness regime to boost her success on the track.
At the age of 15, Christie Doran was selected to learn how to drive, learn basic race craft and pass her race exams as part of a campaign to prove racing drivers don't need years of karting experience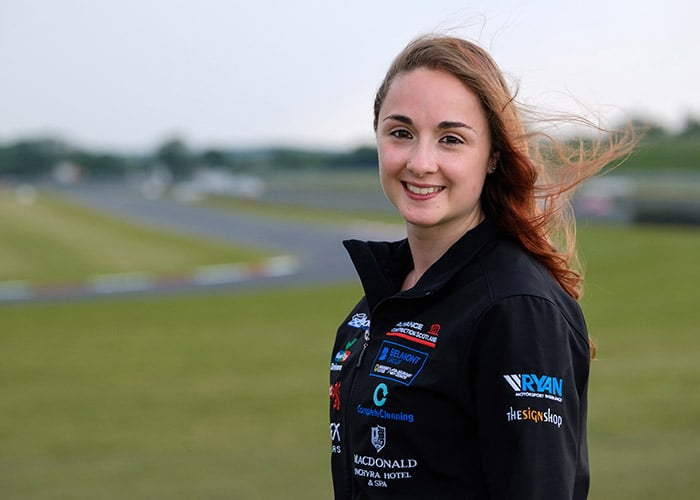 "At 15, I didn't even know what a clutch was and I was given seven months to go from nothing to racing on the Ginetta Juniors grid at Knockhill," says Christie from Falkirk in Scotland.
"I started the weekend 17 seconds off the back of the pack and ended it just three seconds off the front running cars. I caught the bug and just wanted to keep going."
Now age 22, Christie has continued to race ever since with 2016 proving to be her breakthrough year achieving three class wins, 12 podiums, and five fastest laps throughout the year as she raced in a VW Golf at speeds over 130mph.
She also made UK motorsport history when she came second in class to Amy Dziurzynski and the pair became the first females to a secure a first and second finish [V1] in a mixed gender race. She was also crowned Scotland's most economical driver by winning the Greenfleet EV Challenge.
Christie trains six days a week at MacDonald Inchyra Hotel gym to prepare for the physical demands of a sport which requires her to be as light but as strong as possible.
"I started using MYZONE around a year ago when the gym was promoting the technology. I was told it would be a great way for me and my trainer to monitor my progress," she says.
And this has proved to be the case with Christie now using the heart rate tracking technology all year long.
"I use MYZONE in the gym to monitor my training and heart rate tracking — it's a brilliant motivator. I always try to push my hardest to ensure that I stay in the red zone for as long as possible during my workout. Seeing how hard I am working in real time really helps to keep me on track and I've seen massive progress in my fitness levels since using MYZONE."
Currently preparing for the second half of the season, Christie says that MYZONE's ability to help her prepare for the exacting requirements of the sport has been a revelation.
"It's easy to see how MYZONE can benefit traditional athletes, but you wouldn't normally associate this technology with motorsport. Drivers have to be highly conditioned to compete in motor racing and MYZONE has proved to be a real asset to my training regime."